Sorry I have been among the missing.  I am my own IT department with the help of a few geniuses so when things go awry, it is a giant time suck.  I am happy to say that I think everything is almost pieced back together.  Shiny new computer and new software.  Software that I don't like off my machine and refunded.  There's a story for a glass of wine.  LOL.  But that brings me back to posting the wonderful canvases from our first Zoom-bellishment Class of the year.
Dottie's Garden is seriously the cutest little white pup.  This is a Maggie canvas and she is a delightful stitch.  The cool thing about this canvas is that it is almost a stitch sampler.  So many fun areas to fill with stitches.  They are of course organized so that it flows, and the foreground comes forward and the background goes back.
Dottie was previously stitched in an Embellishment class but I never posted about her.  Now she is finished, and glorious.
Here's Dottie!
So many fun trees and flower beds.  You know Dottie is living her best life ever!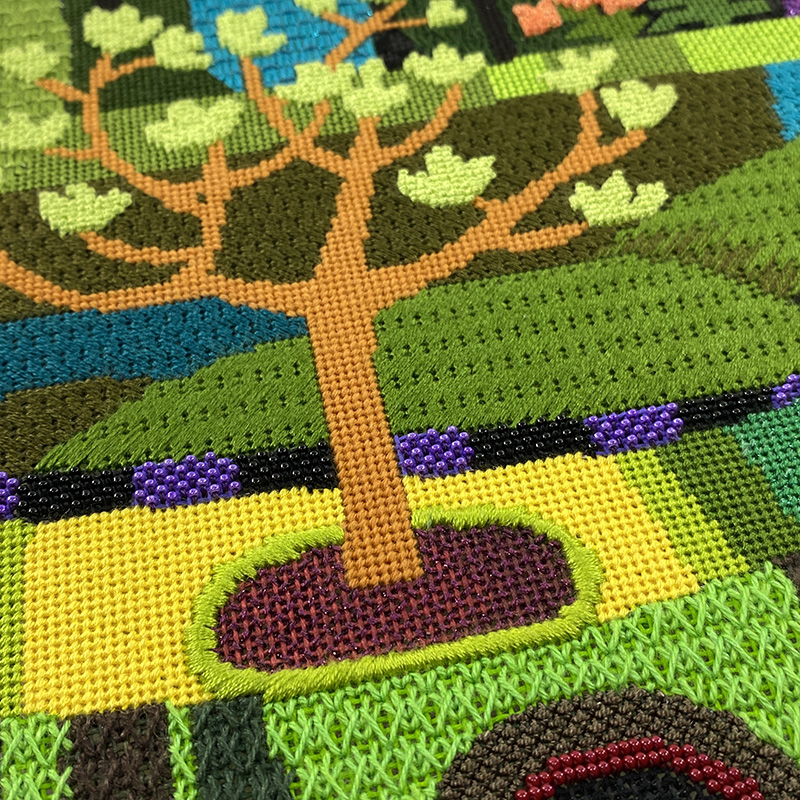 I promise this is a canvas that will make you happy just looking at it.  Here's the link to order.
Our next Zoom-bellishment class with openings is October 14 and 15.  Class is filling up quickly.  Here's the link to details
We are also excited to announce that Mary Legallet of Whimsical Stitch will be teaching again on zoom in August.  Here's the link with those details!
More fun stuff on it's way!
xo
ruth
If you are reading this post on the blog great!  Make sure you are signed up for the mailing list so that you don't miss anything Bedecked and Beadazzled.  Did you know we are also on Instagram, Facebook, Pinterest and YouTube?  Even more places to follow the fun. xo again.