We are a full-service on-line only needlepoint store
with an awesome classroom in Lutherville, Maryland.
What does this mean?
We sell canvases to inspire you…
threads to delight your sense of color and touch..
and accessories to enhance your projects and make your stitching easier.
We will handle all your finishing needs whether you bought your project from us or not.
All of this fun and creativity is brought to you via a big brown UPS truck. After 9 years of a brick and mortar store we are back to our roots of servicing our customers via the internet, sorry no store to visit on a whim.
Simply select your project, add ons etc, and check out in your jammies or on your lunch break. We'll take it from there and send you a sparkling package of needlepoint fun.
Would you like to come for a class? Visit the classes section of our website to see our current offerings and then join the funny the beehive. We have a beautiful well lit classroom where we will spoil you and expand your stitching knowledge. And to make it more fun, you can shop to your hearts content while you are here!
We are girls who just want to have fun.
See you soon.
xo
Ruth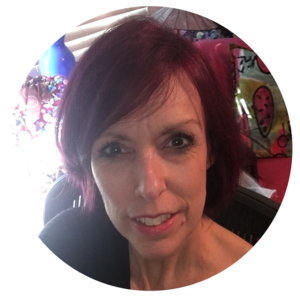 Ruth Schmuff
Welcome to my colorful world!  I am a graphic designer with a long standing love of the needle arts and beautiful crafts.  I'm all about color and whimsy ( and cats.)  I have been designing needlepoint and the occasional counted canvas work project for over 20 years. In 2001 I launched my first website of needlepoint offerings.  In 2007 I opened my first brick and mortar needlepoint store, moving it in 2009 to a space twice as large.  In 2015 we re-worked the shop concept to focus on our online customers, fabulous classes and creating new and fun projects.  A portion of me loves the business side of things and developing new products.  So many ideas, so little time.  It's a wonderful life.
---
Johnny!
Johnny joined us in January of 2017.  He is the ubiquitous staff ambassador.  Everyone loves him and he loves everyone!  He is the perfect staff cat.  His duties include snuggling his queenbee and entertaining our guests and overseeing his staff.