Sound the trumpets!  Our dear friend Marjorie Barnes is coming back to teach!!  I can't tell you how excited we are.  She was here two years ago and it seems like forever.  She is not only a talented designer but such a great teacher.  We love her!  You will too.  These are definitely classes worth treating yourself too.
Here's the lineup.
Owl Necklace – June 28, 11-5 pm
I smile every time I look at this little owl.  He's happy and quirky and going to be a great addition to your wardrobe.  Or, if you want to just learn the techniques, consider him in a little shadow box.  This is bead embroidery.  As a needlepointer this is a great skill to have.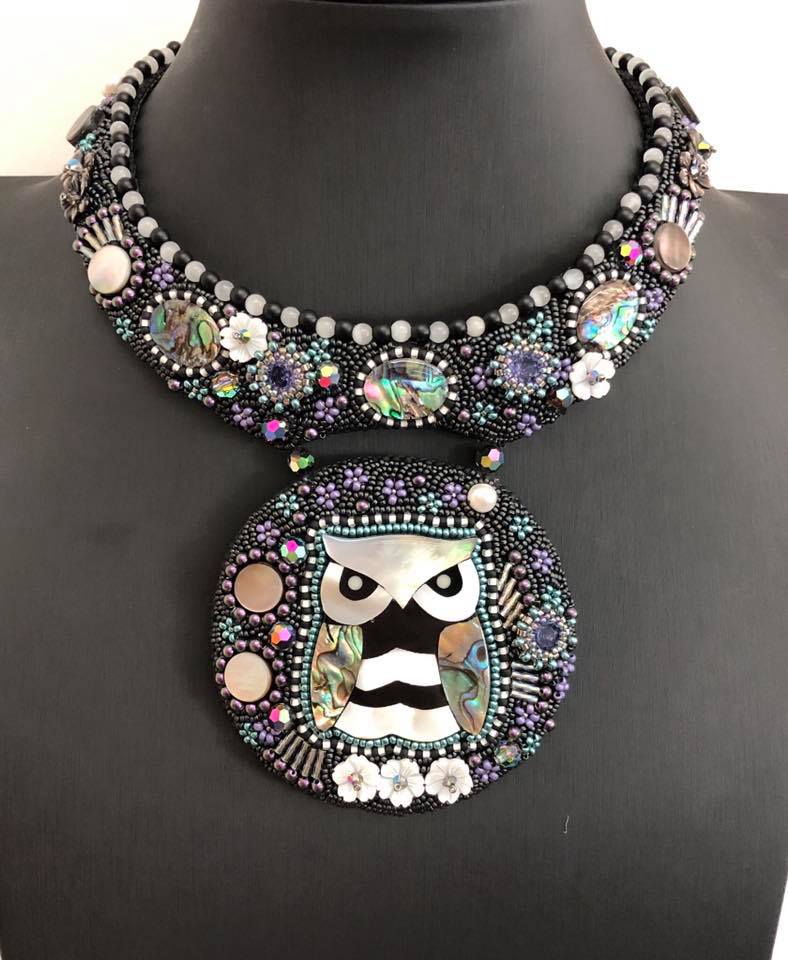 Laurie's Necklace – June 29, 11-5 pm
Beautiful bead embroidered elements are joined to make a stunning necklace or bracelet.  Kits are available in rose quartz, opaline and onyx!  Wow!
Fantasy Ferns – June 30, 11-5 pm
This beadwoven necklace takes on a complete transformation with or without the fringe.  Color choices are bronze or nickel.  Such a fabulous statement piece.
Don't doddle.  Classes are filling fast.  The models are in the shop and they are show stoppers.  Give us a call at 410.296.0405 and join the fun.  See you soon.
xo
ruth