Here we go!  Lesson three of the Witch Shoe Collage is about to be unveiled.  Before I show you what we did, please allow me to delight you with this unboxing video of the threads in the kit from Christine.  She is always so excited to see what I send and does a great job with these videos.  Thanks, girlfriend.
Now that we are all excited about the threads, let's see what we did with them.  This lesson was mostly about adding patterns to the stripes.
Of course you know I love the kitty faces stripe at the top of the canvas.  The lavender and pink stripes above the kitties are super fun and quick.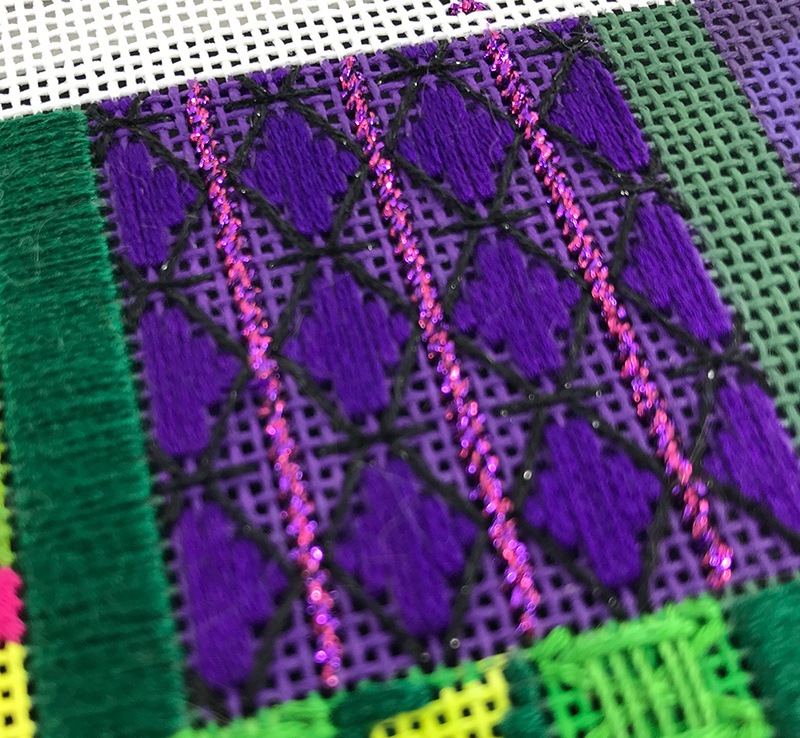 I also really love the purple stripes.  I decided they needed diamonds!  Yes, let's create a pretty pattern inside another pattern.
The dark green stripes are straightforward horizontal long stitch with a luscious dark green Soie d'Alger.
This is a collage, so all like things must be stitched to match.  Since we stitched the small tree squares in Basketweave in the last lesson, we need to stitch the large tree sections in Basketweave too.  They would ultimately have been cut from the same cloth so to say 😉
Next lesson is in two weeks.  We'll stitch the shoe then.  The sparkly bits have arrived.  Just sayin'.  You know I love sparkly bits.
If you would like a kit, here's the link.  Complete kits can ship after the last class.
Which reminds me, I haven't told you what the holiday mystery is this year.  Stay tuned.  I'll get that posted this week.  It's a cutie.
xo
ruth