And I'm back!  LOL   I seem to spend a lot of time being my own IT department.  Yes I have help in that department but whenever an upgrade is needed it seems to take on a life of its own.  There's still more to upgrade to keep things moving smoothly but for now I am back to our regularly scheduled program.
To celebrate a small pause in these projects, allow me to introduce a fabulously new David Galchutt canvas.  This is Constant Companion and she is glorious.  She was quietly introduced in an embellishment class and Carol stitched her so quickly and so beautifully I waited to share her with you.
There are so many threads and beads because of course the dragon had to be beaded.  Right?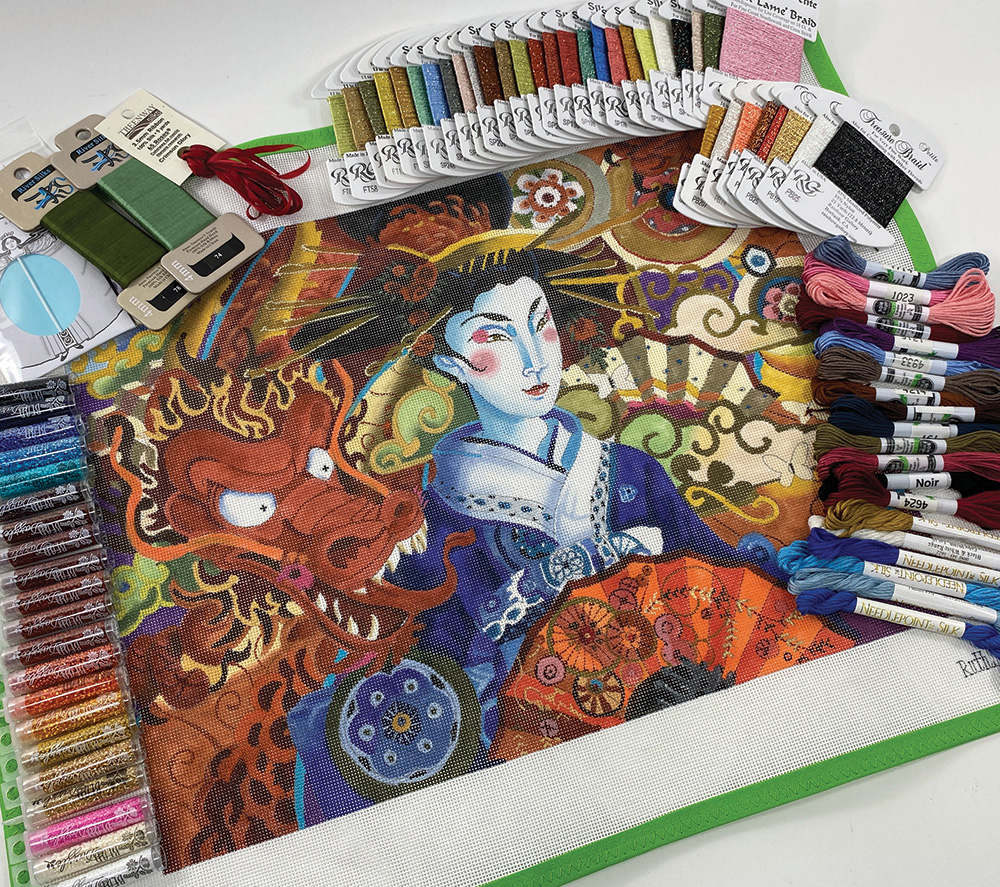 Here she is finished.  The look on their faces.  They are so engaged with the viewer.  She's off at the  framer now, so I will share again when she returns.
The dragon really is my favorite part of the canvas.  He is completely beaded but the magic is the depth created with the beading.  Canvases and stitchguides are in stock now.  If you find her irresistible Here's the link to order.
Mystery Class News
The second and final lesson of the Eye Poppin Peacock is next weekend.  This is a quickie project.  Two short lessons.  The next mystery is My Neighbor's Garden by Brooke Connor and it is jam packed with color!  Let's Fall in Love is on track.  Threads are arriving.  It will still be awhile but we're getting there.
The newest of the new is in the What's New section of the website.  Stay up to date on new canvases by visiting that link often 🙂  You never know what might just have been released.
xo
ruth
If you are reading this post on the blog great!  Make sure you are signed up for the mailing list so that you don't miss anything Bedecked and Beadazzled.  Did you know we are also on Instagram, Facebook, Pinterest and YouTube?  Even more places to follow the fun. xo again