Oh My!  Cynthia Rutledge is coming to teach.  This has been in the works forever!  Cynthia was the very first beadwork teacher that I took a class from.  She is amazing.  Each piece she designs has a story.  I do hope you can join us.
Here's the line up and the pretty pictures.  Full details on the website here.
Gabrielle's Muse: An Elegant Sautoir – October 11, 11-5 pm
An Elegant Sautoir is a blend of styles. Cynthia combines the look of the long pearl necklaces and mixed chains that were a standard iconic style of Coco Chanel's personal style. A puffy square-­‐shaped central component with a beautiful CZ cushion cut nestled inside; an open three-­‐dimensional rectangular shape, and a puffy square-­‐shaped pearl drop make up the pendant. Pulling from the design of the pendant, the chain is made of smaller rectangles, squares and pearl cabochon links and worn long, in the style of a sautoir.
A Cut Above, October 12, 11-5 pm
A Cut Above, was inspired by two different aspects of the work of Antoni Gaudí. The first, being the architectural flowing shapes, arches and spires of his work. The second, was to capture the essence of his use of color and light. Each tassel consists of three shaped components, laced together to form "windows" of color and structure. At the top of each of the tassels is a four-­‐sided CZ beaded bead, reflecting light as it is worn. The chain is a filled-­‐netting, evoking the style of leaded glass, and ending is a sliding clasp.
Feathers of the Peacock – October 13, 11-5 pm
Feathers of the Peacock is Cynthia's interpretation of a more contemporary approach to a timeless inspiration, the peacock. Three "feather" shapes are filled with embellished Swarovski pearls and linked together for a fabulous focal point. All of the feather shapes and the necklace straps are created in cubic right-­‐angle weave. The pearl embellishments, buttons and the necklace connector utilize peyote stitch, netting and embellishing techniques.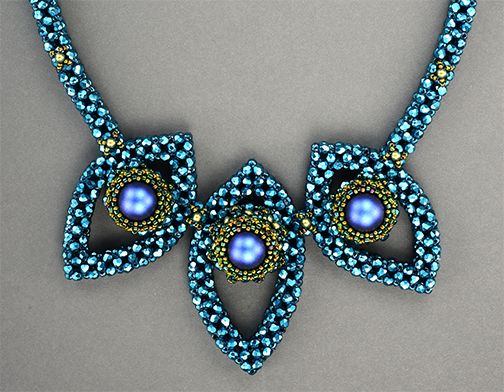 Come and bead a day or two or three away with us.  It's going to be fun. 
Details here
.  Call 410.296.0405 to sign up.  Ghosts are welcome.
xo
ruth