When I first chose this canvas as a mystery class, there was one thing I knew.  I wanted to use crystal fabric for the dragonfly wings.  So pretty and so sparkly!  I could not have imagined then where this journey would take me.  The canvas radiates sparkle.  Each time I walk past it, I am caught by the shimmer.  It's not just the wings on the dragonfly, it's the wings on the bees and the beaded background!  We aren't done yet so let's see where we go.
This is Dragonflies by Helen Heins Peterson, our current mystery class.
In our third lesson we worked the border in a fun overlapping pattern using multiple threads. The corners are simply basketweave so there's no complicated corner turns.  Someone needs to remind me that I still have two to stitch before I hand it off for finishing.  This would not be the first canvas I thought was finished when I sent it off only to realize when it came back that it wasn't.  That is a story for another day.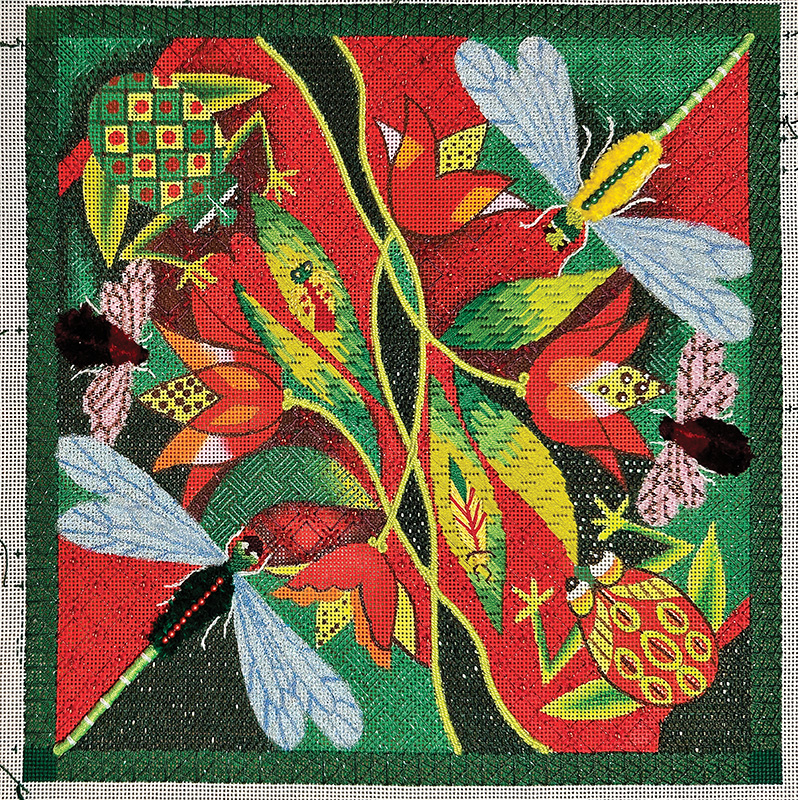 The dragonfly wings are crystal fabric, their bodies are all fluffy and their tails are repoussé.  I love repoussé;  it's a great way to add dimension to your canvas.  I did a video of this technique.  It's on my YouTube channel.  Check it out.  It's long but shows exactly how to work it for maximum ease.  Here's the link
The bees have a fluffy body too and Brick beaded wings.
There's one final lesson with frogs and tulips, stay tuned for that.  The next mystery will be announced very soon.  I'll give you a hint, it's by Eleanor Grosch.
Kimberly of akimberlydesign was here last weekend teaching Almost Midnight.  That is available as a complete kit or you can join us on Zoom in September and stitch along.  It's an amazing piece.  In June she will be teaching her new Alter Ego series.  I'll have those details on line shortly too.  Lot's of fun and sparkle at the hive.
xo
ruth
If you are reading this post on the blog great!  Make sure you are signed up for the mailing list so that you don't miss anything Bedecked and Beadazzled.  Did you know we are also on Instagram, Facebook, Pinterest and YouTube?  Even more places to follow the fun. xo again.