Wow!  Just Wow!
The last two days have been intense.  Brenda Stofft was here teaching Sasha the Russian Fox and she is a doll!  Sasha, I mean.  No, Brenda, I mean.  LOL.  You get it. They are both dolls!  Love them both to the tips of my toes.
Sasha is a needle-felted dimensional fox with a needlepoint coat.  This is an entirely new skill-set.  It's sculpting.  I don't know about you but I don't do a lot of sculpting.  LOL.  I add 3d elements to flat canvas but this is different.
You begin with a base of white.
Then you start building up.  Piece by piece, shape by shape.  Needle-felting is very forgiving.  You can squish it down or build it up but it is as I said different so you have to trust the journey and let it take you where it will.  You wonder is your nose too long, is your forehead curved enough?  Will your eyes fall out?  In the end trust it.  It works.  Brenda does not let anyone leave with an ugly face.
There are moments when you wonder, where am I going, but it works.  Trust me.  Trust Brenda.  It comes together.
Here's my not done fox face.  Her shape is good.  Her eyes aren't defined enough yet but it's a start.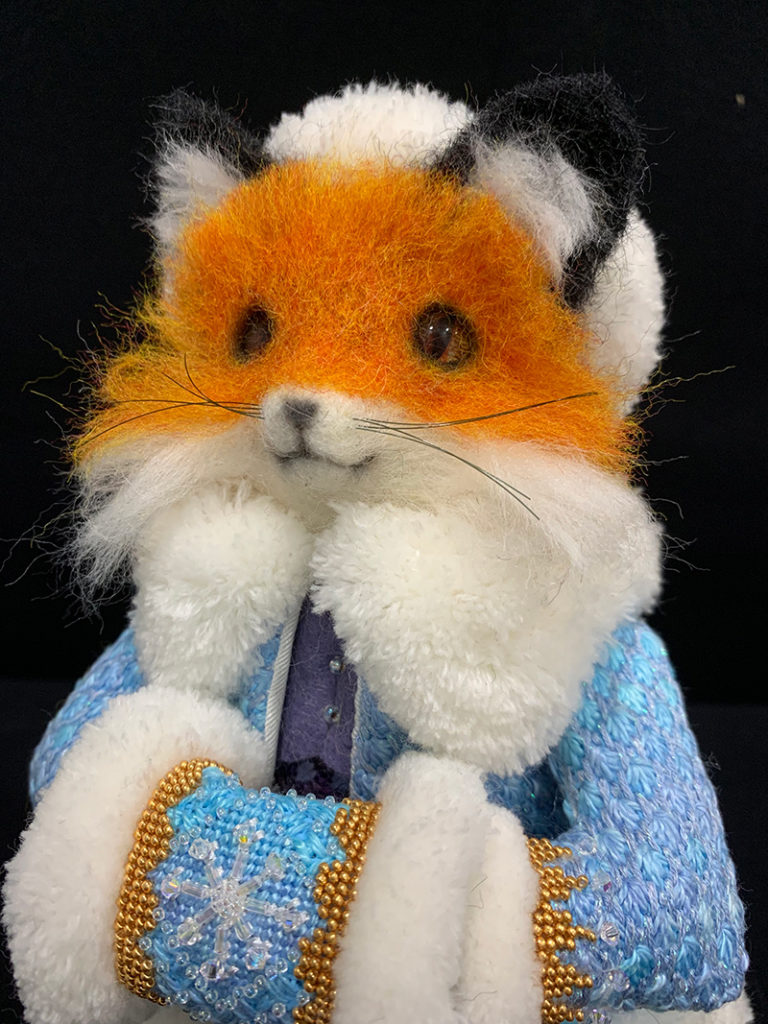 One day she will look like this.  (I hope.) Of course that's a lot of Turkey Work later.  LOL.
If you get the chance, take a class from Brenda.  It will stretch your skills and challenge you, but in the end you will have the most amazing heirloom that you won't believe you made.  Thank you Brenda for taking us on this journey with you.  Thank you ladies for joining us.
Today we start the backdrop for Sasha.  Brenda designed the canvas and I wrote the stitchguide.  Stay tuned for that post.  It's sparkly!
xo
ruth