Zoom-bellishment is all about different canvases for different people.  There are so many great canvases out there and we want to see them all come to life.  Dianne selected Moon Gazer by Brenda Stofft.  An elegant bunny in the woods at night.  So sweet.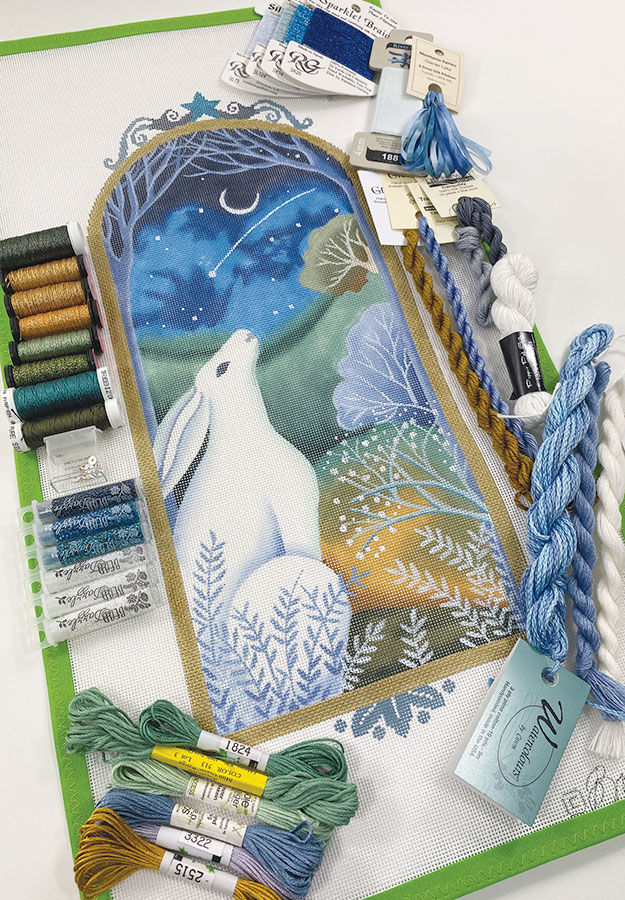 I've written a brand new stitch guide for this canvas.  It uses a variety of threads, stitches and techniques.  It's going to be a fun one!  If you are a bunny lover and seriously, who isn't?  Here's the link to order.
I'll keep featuring a canvas a day with its guide for this weekend's embellishment class.  Some of the guides are existing, you may have seen them before.  Some of the guides are brand new.  Some of the canvases are newer than new!   We're going to have a great weekend!  We've done our best with all of the canvases we are about to show you to have canvases and threads in stock or soon to be in stock.  For Moon Gazer, we have canvases in stock and a good selection of the necessary threads.  The wait to have this canvas shipped to you won't be terribly long.
Our next embellishment classes with available space will be October 2nd and 3rd on zoom.  We'd love to have you join us.  Select a canvas that already has one of my guides and that I can, ahem secure the canvas in time and we'll do the rest.
xo
ruth
If you are reading this post on the blog great!  Make sure you are signed up for the mailing list so that you don't miss anything Bedecked and Beadazzled.  Did you know we are also on Instagram, Facebook, Pinterest and YouTube?  Even more places to follow the fun. xo again.