The Beehive is our studio.  It's where the magic happens.  Yes it's a house, but it's sole purpose is creative fun and happiness.  Everything happens here from classes, to design to packing and shipping your beloved projects.  Its a fun happy space with the prerequisite lime green walls.
In addition to the classes I teach, we love working with national teachers. There is always something new to learn and a good time is had by all.  Most of our classes are on zoom; you can happily stitch from your favorite stitchy chair.  If you need more information on any of the classes listed or would like to sign up, give us a call 410.296.0405 and we'll do the rest! See you soon.
Here's what's on the horizon.
2023 Events
September
September 23-24 – Almost Midnight – a Kimberly Design – Read More
October
October 14-15 – Zoom-bellishment with Ruth! – Read More
November
November 25-26 – Thanksgiving Weekend for Friends and Family – Details Coming Soon
December
December 16-17 – a Kimberly Design – Details Coming Soon
2024 Events
January
January 20-21 – Zoom-bellishment with Ruth! – Read More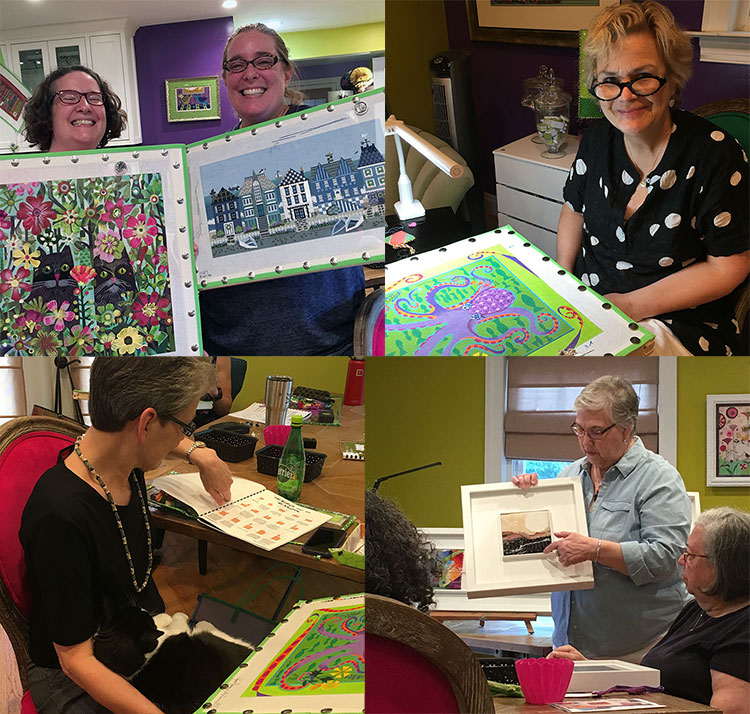 Check out our Past Projects!  Read More 
---
Who's coming next?
Here is a list of some of the wonderful, world-class instructors we have had the privilege of hosting since we opened in 2007:

Sandy Arthur
Kelly Clark
Terry Dryden
Brenda Hart
Robin King
Mary Legallet
Lynn Payette
Beth Robertson & Suzanne Howren
Kimberly Smith
Julia Snyder
Brenda Stofft
Connie Pickering Stover
Libby Sturdy
Caela Conn Tyler
Meredith Willet
The Fab Four
---
CANCELLATION POLICY ETC:
Bedecked and Beadazzled reserves the right to cancel if the minimum number of students is not reached 30 days prior to the event.  All fees will be refunded in this case.
If you need to cancel, please be aware: deposits are non refundable.  Balance of class is due one month prior to class date.  After this date, no refunds are possible.
---
Where to Stay? and How to get Here?
There are many hotels in the Lutherville/Timonium area.  Here are a few that our customers like.
Hampton Inn
Sheraton
Holiday Inn Express
If you are flying in, you will want to fly into BWI (Baltimore Washington International) airport.
See you soon!
---
EDU-CREDITS!
We are pleased to offer an additional rewards program that will help with class costs, Edu-Credits!  For every class you attend with a National Teacher at Bedecked and Beadazzled you will receive one point.  Reach eight points and you will receive a credit toward your next national teacher class equal to $160.  This means your ninth class could be almost FREE!  The points roll-over year to year and do not expire so you can accumulate points at your own pace.  Consider our classes and join the fun!