It's time to think ahead to our next Mystery Class.   What will it be?  Details galore?  You know I love changing things up.  One canvas with large open spaces followed by another with tiny spaces to bring to life.  One canvas very graphic and the next very painterly.  I do love to keep you guessing.  Allow me to introduce our next adventure.
It's an undersea adventure.  The Sirens designed by David Galchutt will be our next Mystery Class.  It's filled with little details and shimmery colors.  It's a glorious canvas and I can't wait to see how it comes to life.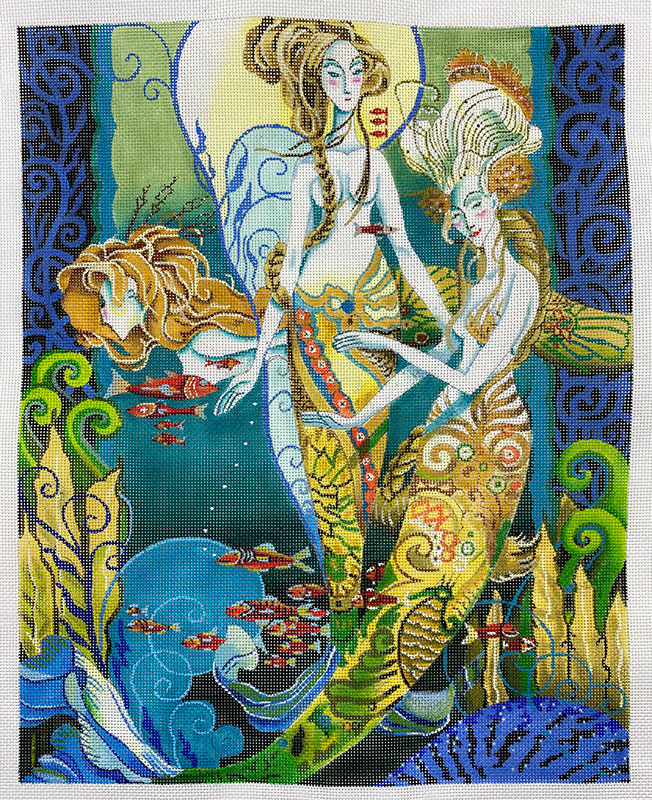 What exactly is a mystery class? A mystery class is just like a mystery in a book; it unfolds in chapters. With each chapter more of the mystery (how are we going to stitch this canvas) is revealed.
Mystery classes are so much fun! You sign up knowing only what the canvas is that we will be stitching. How we are stitching it is the mystery. With each lesson, another section of the mystery is unveiled.
Now, you also know that if I am teaching it, it's going to have a bit of bling. You also know I like to play with different threads and different stitches.
Canvas design area is 12 x 15 handpainted on 18ct canvas. Class cost is the price of the canvas plus $20 per lesson for the stitchguide and an additional charge for the threads, beads etc. necessary for that lesson. The canvas cost for this design is $320.00.
This is a Mystery Class, and with each lesson more of the mystery is revealed.  How cool is that?
I am planning 5 classes for this mystery.  Class dates are currently planned for: Saturday April 3, Sunday April 18, May 2. 16 and June 6,  1-3 pm in the zoom room of the Beehive of Bedecked and Beadazzled.
You of course have choices for how you would like to participate in this class.  I've added in a few new options to support all of our long distance friends yet stay true to my original concept of how Mystery Classes evolve.
•  We can ship your lessons individually as I teach them.  Your instructions will be complete and you can stitch along at your leisure.
•  You may also opt to have us ship your lessons individually with the add on of the zoom classes associated with the project.  If you would like to join the zoom class there is an additional $30 per lesson fee.  Depending upon where you live, there may also be an additional shipping charge for each lesson.  If UPS can get to you in a day all is good.  If you are more than a day away from us, we may need to ship expedited which will incur additional charges.  Our Mystery Class/Zoom Classes are great fun and very relaxed.  We review the class lesson step by step and I'm here to answer any questions you have.  At the same time we chat and visit, we're a super friendly group.
•  You may also sign up for this mystery long distance and have us send it to you as a complete kit at the end of the mystery. Note:  We will charge you for each lesson as we go along but hold your kits and ship at the end of the class to help you offset shipping charges.
You will need 15 x 18 or 19″ stretcher bars.
*Class size is limited. Please sign up early to reserve your space and ensure you receive your canvas in time to start with the rest of the class. I have a limited number of canvases in stock.  Once they are claimed, our next order of canvases will be September 2021.
Here's the link to sign up and join the fun.
Santa Fe Felines is in process.  Threads are on order.  They will be here when they are ready and then they will be on their way to everyone waiting.
xo
ruth
If you are reading this post on the blog great!  Make sure you are signed up for the mailing list so that you don't miss anything Bedecked and Beadazzled.  Did you know we are also on Instagram, Facebook, Pinterest and YouTube?  Even more places to follow the fun. xo again.