The first Zoom-bellishment class of the year is this weekend.  I've been peppering you with all the fun canvases we are going to stitch.  I have so much more to share!  There's definitely something for everyone in these classes!
I offer Zoom-bellishement classes 3 or 4 times a year.  There are a limited number of new guides writteen for each class.  Multiple people can stitch the same design.   I already know what new guides I will be writing between now and the end of the year.  How does that level of planning happen?  I'll show you those canvases soon.  Beyond the new guides written for class we have spaces for yet more people who want to join the fun but maybe don't like the new choices.  Perhaps they would rather stitch a previous mystery class or something that was new in a previous class.  We have a full house but we have a great time.
Several people will be stitching Melissa Shirley's Seaside Houses.  It's a wonderfully sophisticated seaside scene.  Lots of pretty buildings.   Here's the link to order if the sound of the waves calls your name. 
Another sophisticated canvas is this wonderful new design by Prince Duncan Williams, Rhythm II Piano Concert.  Love the colors!  This one needed a roadmap to keep us on track with all the abstracted shapes.  It's a fun and happy canvas.  You can order yours here if you have just the right spot to hang it.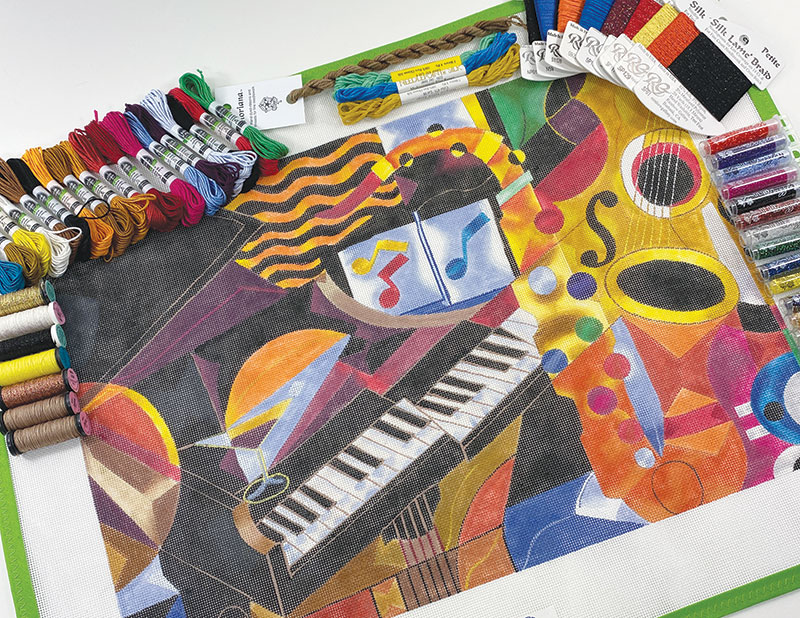 I'll keep featuring a canvas or two a day with its guide for Zoom-bellishment.  Some of the guides are existing,  you may have seen them before.  Some of the guides are brand new.  Some of the canvases are newer than new!   We're going to have a great weekend!  We've done our best with all of the canvases we are about to show you to have canvases and threads in stock or soon to be in stock.
xo
ruth
If you are reading this post on the blog great!  Make sure you are signed up for the mailing list so that you don't miss anything Bedecked and Beadazzled.  Did you know we are also on Instagram, Facebook, Pinterest and YouTube?  Even more places to follow the fun. xo again.