Oh how I love a beautiful painting.  I love the shading, the color shifts and the magic of paint.  What I love even more is adding depth and texture to that painting with threads and beads.  Our current mystery class is Johanna Virtanen's Dog Ears.  This cute little pup is happily posing for us on a fun red background.
The background is very watercolory changing from reds to oranges.  We used a fun overdye from Gloriana paired with Petite Silk Lamé Braid in a semi open stitch to add some texture to the background.
The real challenge of this canvas is the black pattern on either side of the dog.  Lots and lots of little swirls.  We could work Outline Stitches with a ply or two of silk.  There's lots of lines and it would be gorgeous.  What if we went in a different direction?  What if we stitched a pattern stitch over all of the black swirls?  A blackwork pattern!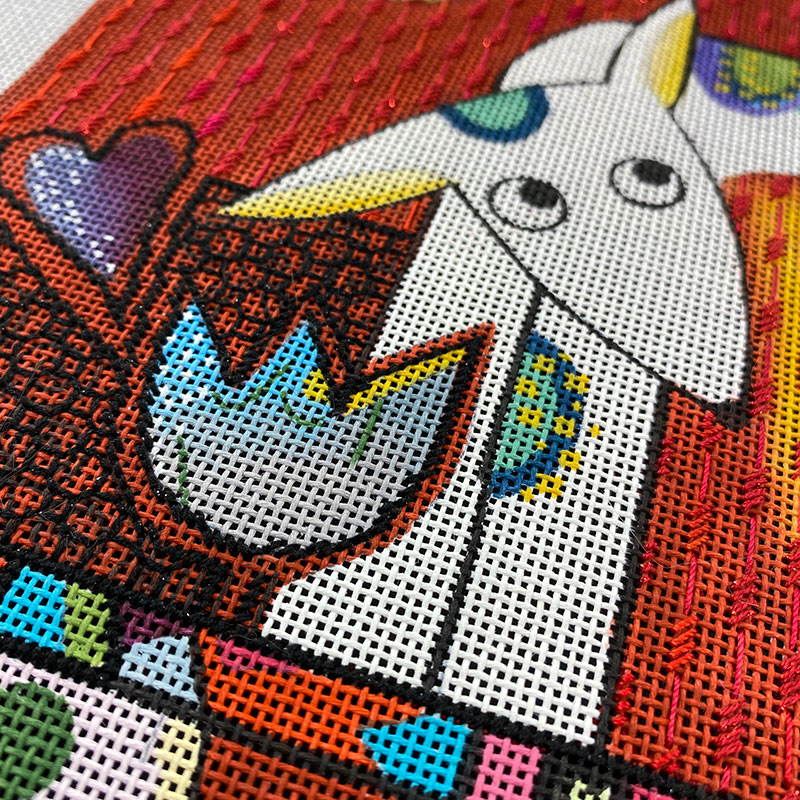 There's more to come on this cute little pup, but this is where we are now.
We have a few canvases in stock with more due in a month or so.  If you would like to join this adventure here's the link.  Wait until you see what's next.
Let's Fall in Love is currently at the top of my queue.  Hopefully I will be announcing that is on it's way to everyone soon.
xo
ruth
If you are reading this post on the blog great!  Make sure you are signed up for the mailing list so that you don't miss anything Bedecked and Beadazzled.  Did you know we are also on Instagram, Facebook, Pinterest and YouTube?  Even more places to follow the fun. xo again.