Sometimes the planets align and we actually stitch canvases in the appropriate season.  And better yet sometimes the planets align and we can stitch these canvases in a seasonally appropriate embellishment class.  YAY!!!  Zoom-bellishment is October 2 and 3rd.  There are so many fun canvases to share with you!
Kate has selected Hoot by David Galchutt for her embellishment canvas.  This one already had a guide.  It's an amazing canvas.  I really can't wait to see it stitched.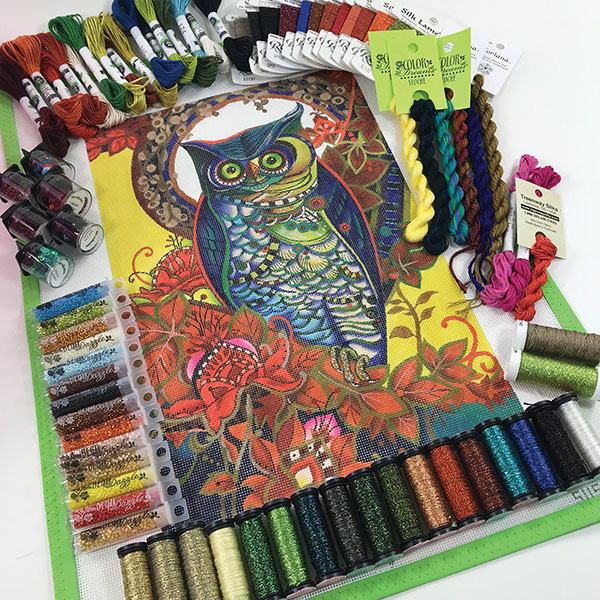 Keeping with the owl/October theme, Joyce has decided to stitch Halloween Hooter by Dede.  This was originally a mystery class.  She knows what mine looks like, so no surprises there.  She didn't know us when I originally taught this class.  Now she can revisit it in a Zoom-bellishment class.  YAY!
If you would like to stitch an owl here are the links
Hoot by David Galchutt click here
Halloween Hooter by Dede click here
I'll keep featuring a canvas a day with its guide for Zoom-bellishment.  Some of the guides are existing, you may have seen them before.  Some of the guides are brand new.  Some of the canvases are newer than new!   We're going to have a great weekend!  We've done our best with all of the canvases we are about to show you to have canvases and threads in stock or soon to be in stock.
Our next embellishment classes with available space will be January 8th and 9th on zoom.  We'd love to have you join us.  Select a canvas that already has one of my guides and that I can, ahem secure the canvas in time and we'll do the rest.  Click here to see all the possible guide choices.  This doesn't guarantee the canvas is available, but it's a start.