It's Spring Break and I'm thinking beach and sun and mermaids!
Which means its the perfect time to invite you to our upcoming Kelly Clark class!
Join us for three fun days of stitching and fun with Kelly!  Kelly takes every canvas to the next level.  Her newest series of canvases is all about mermaids!  So many beautiful stitches with fun threads and techniques.  Design size is 5.25 x 11.25 handpainted on 18ct.
Class will be 11-4 Friday, Saturday and Sunday, August 12-14 on ZOOM!
Allow me to introduce Marina the Deep Sea Mermaid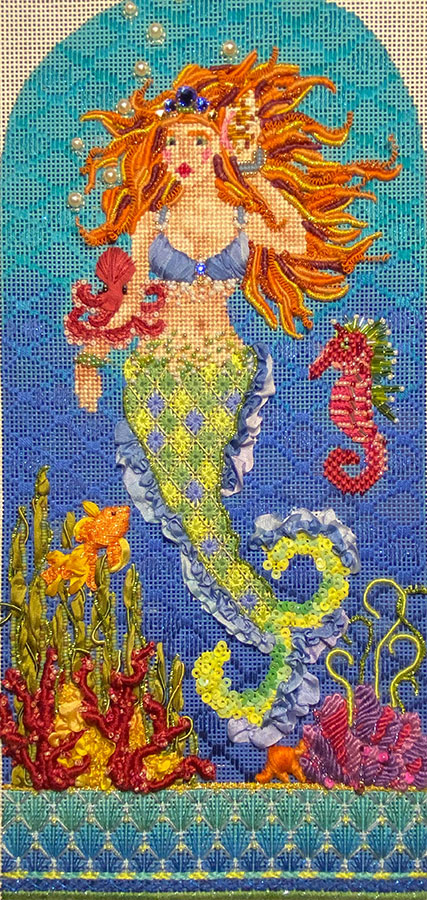 and Dolphina the Gulf Coast Mermaid!
Cost is $345 plus the cost of the canvas, guide and threads.  Canvas and guide are $233.00  Thread kit price to be determined.  You will need 9″ x 15″ stretcher bars.  If you can't join us for Zoom, kits are also available.
Class size is limited. Please sign-up early and reserve your space. A $100 non refundable deposit will be required.
Here's the link to signup for Marina or to order a kit!
Here's the link to signup for Dolphina or to order a kit!
If you would like both kits and will be joining us on zoom, there will be only one class fee 😉
I hope you will join us, Kelly's last class was a fabulous adventure!
This Sunday is the second lesson of Penelope and her Imaginarium.  More fun is in store.
xo
ruth
If you are reading this post on the blog great!  Make sure you are signed up for the mailing list so that you don't miss anything Bedecked and Beadazzled.  Did you know we are also on Instagram, Facebook, Pinterest and YouTube?  Even more places to follow the fun. xo again.