Wow that took forever….  I'm finally at the last of canvases to show off from our July Zoom-bellishment class.  At least I think this is the last of the canvases.  You never know what else I may find.
Our zoom-bellishment classes are great fun.  They continue to grow as we add new friends to the party.  No matter what happens in the rest of the world, I plan on continuing zoom-bellishment classes.  I may have the occasional in person class, but truly times have changed.  Our classes give you a glimpse of how my mind works and how I select stitches for a canvas.  There is a process.  Zoom-bellishment is the best of all worlds.  We get to meet stitchers from all over with this fabulous format.
I have always loved this classic Eleanor Grosch canvas, Preen Peacock, and was excited when Catherine asked for a guide.  She's a beader too, so I knew I  could do beady things to the canvas.  See those sparkly crystals in the bag?  They go in the center of each of the dots in the peacock's tail.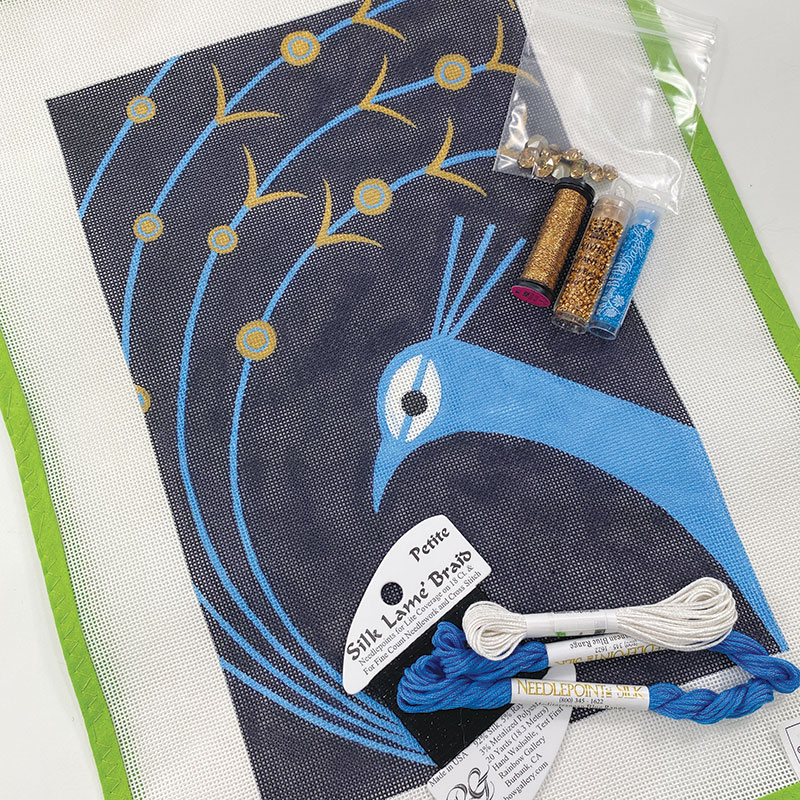 If you love peacocks then this may be the perfect canvas to add to your collection.  Here's the link.
Next up, I need to show you the first lesson of Dog Ears by Johanna Virtanen.  Oh so fun!
xo
ruth
If you are reading this post on the blog great!  Make sure you are signed up for the mailing list so that you don't miss anything Bedecked and Beadazzled.  Did you know we are also on Instagram, Facebook, Pinterest and YouTube?  Even more places to follow the fun. xo again.