I hope you are having a fabulous Sunday.  The weather here is glorious and so not like mid June.  I'm okay with that.
Last weekend we had a fabulous class on zoom with Kimberly of a Kimberly Design.  It was her Nouveau Floral. It sold out so fast I didn't really have time to launch it, so we picked another set of dates and here's your chance to sign up!
Join us Saturday and Sunday, November 12-13,  11-4pm on ZOOM! 
Kimberly's Zoom classes are wonderful.  She walks you through all the tricky bits of her stitchguides, demonstrating live time so that you can see exactly how to do it.  Her Nouveau Floral is spectacular!  The colors are rich.  There are so many fun stitchees and techniques in this canvas.  You will love it.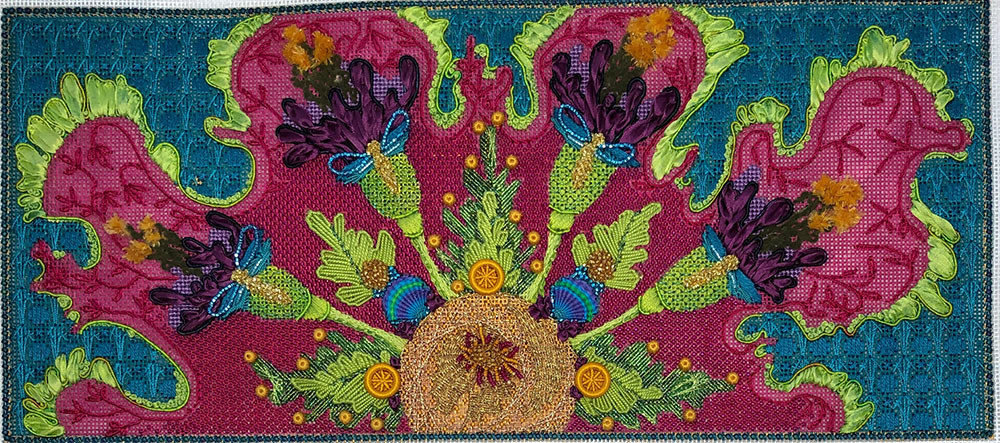 The canvas design area is 13 x 6, handpainted on 18ct and filled with fabulous threads and textures.  It's just irresistible! Once you start you won't be able to put it down.
We have a limited number of canvases on order for this class, so don't delay.  You won't want to miss this fun weekend.
Here's the link to sign up for class or order a kit.
I working on the next lesson of Fifi in her Garden and the long awaited Let's Fall in Love and writing stitchguides for the largest ever Zoom-bellishment class.  YIKES!  So good stuff is coming.  Stay tuned.
xo
ruth
If you are reading this post on the blog great!  Make sure you are signed up for the mailing list so that you don't miss anything Bedecked and Beadazzled.  Did you know we are also on Instagram, Facebook, Pinterest and YouTube?  Even more places to follow the fun. xo again.