Sometimes a lesson comes together and it has a theme.  Not just a theme like mountains  or flowers or feathers, but an underlying theme that appears as the canvas is stitched.  This was one of those lessons.
In lesson three of our current Mystery Class, Beep Beep by Dominic Bourbeau, we started by stitching the mountains.  I created new stitches that mimic the angles of the mountains.  Both stitches are similar but still slightly different, allowing the coral mountain to sit in front of the magenta mountains.
Generally my philosophy is that you can work the individual stitches within a pattern in any order you prefer.  Consistency is the important thing.  In these stitches there really is a "right order" to work the stitches.  As long as you follow this order, everything lays nice and smooth. The tension on the thread keeps the stitches consistently at the correct angle.  There is a method to my madness.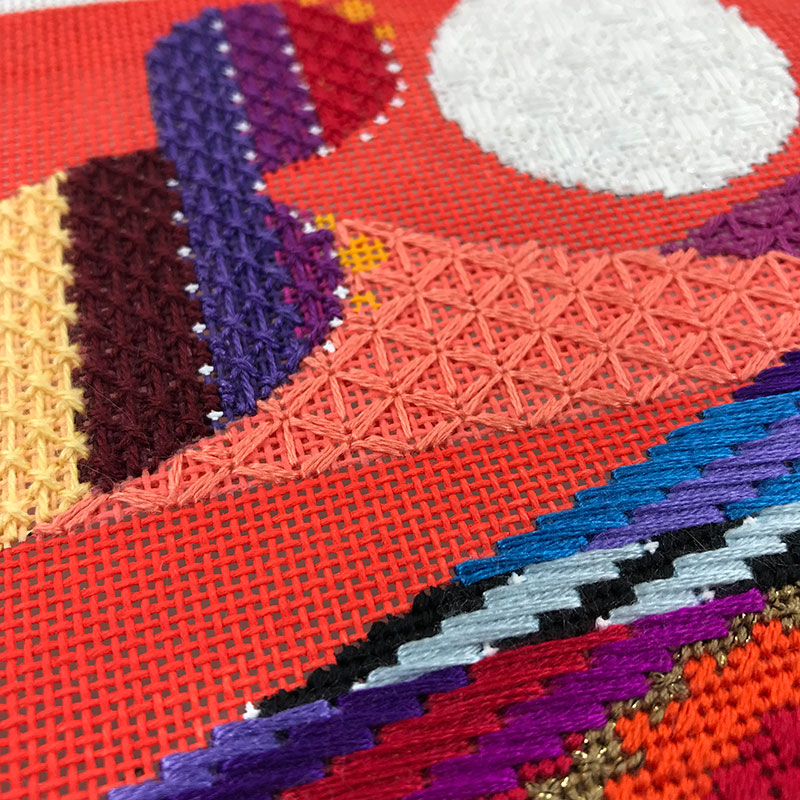 Next, we moved onto the tan stripes on the road.  They are another pair of stitches, slightly different darning patterns.
Finally we stitched the two green areas of foreground.  Yep, another pair of coordinating stitches.  Both are Laid Filling Stitches.  The tension on the thread created by following the specific stitch order maintains that all of your stitches lay smoothly, evenly, and at the correct angle.  Sometimes there really is a "right way".  You know it pains me to make up rules.  LOL.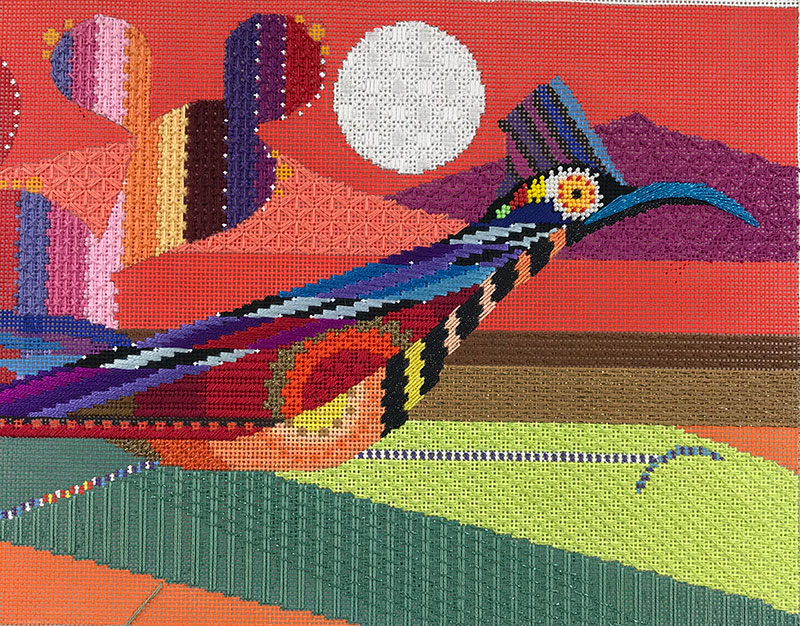 I love stitching these Mid Century Modern designs.  The spaces are large enough to play with stitches but not so large that I get bored.  We all know my attention span.
We have one more lesson of Beep Beep.  It will be in two weeks.  Let us know if you need a road runner of your very own.  Give us a call at 410.296.0405 or click here to order.
xo
ruth