My, oh my!  Sherry Serafini is coming to teach for us in September.  Three fun filled days of bead embroidery classes.  Sherry is an icon in the beading world.  She's taught lots and lots of people to make beautiful jewelry and it's all totally doable.  She's sold finished pieces to celebrities. So many cool feathers in her cap.  She's talented and warm and friendly.  How can you go wrong with that combination?  Can you tell we are excited?
Take one, two or three classes.  Class prices are all inclusive, teacher fee, complete kit and lunch.  No surprise add ons. Well, unless you shop at the trunkshow and I can't be held responsible for that.  🙂
Celebration Necklace September 21, 11-5pm
Join us and make a beautiful bead embroidered pendant utilizing a wooden ring armature, Czech button, Tierracast drops, cup chain, cabochons and seed beads. Neckpiece hangs from chain and closes with a lobster claw clasp.
Crazy Quilt Cuff September 22, 11-5pm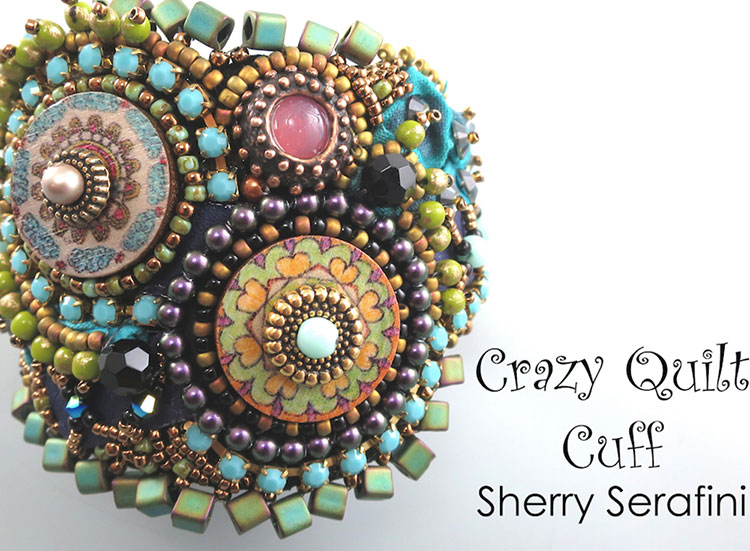 Bead embroider a fabulous, funky and fun cuff using buttons, leather, cup chain and various embellishments. This class is a design oriented class while exploring mixed media.  My favorite thing about this cuff is that you can size it to fit, narrow or wide this is your creation.
Bella Necklace September 23, 11-5pm
Bead embroider an elegant necklace that utilizes Annabronze© bead caps, Swarovski elements, wooden ring and more. Embroidery, peyote stitch and edging are the stitches explored.
Once you learn the techniques the possibilities are endless.  Not only can you make fabulous wearable jewelry, but imagine making fun add ons for your needlepoint. You know I'm all over that idea 🙂
Full details are on the website.
Sherry's classes always fill fast so check your calendar and give us a call to sign up.  We're going to have a great time.
xo
ruth