What time is that?  Time to share all the fabulous canvases that will be stitched in Zoom-bellishment next weekend!  Let's start with what exactly is Zoom-bellishment and when is the next class?  Zoom-bellishment is my new virtual version of my Embellishment class.  You pick a canvas, I write a guide and then we spend two or three days stitching together and reviewing what exactly was I thinking and how do I do that?  This used to be in person but now, well, you know.  It's virtual.
I'm delighted to say that I will have 20 friends old and new joining me next weekend.  That's a lot of stitchy fun.  Several are stitching the same canvas which helps keep my brain from exploding into tiny bits.
Our next Embellishment classes that are available for sign up are
March 13 & 14th with Mary Legallet of WhimsicalStitch.com hosting and
April 10 & 11 with me!
In either case there are a limited number of spots still open and you must choose a canvas that already has a guide written by either Mary or I (depending upon the class) and I must be able to get the canvas in time for class.  That's the real challenge.
Here's the link were you can see all of the guides I have written or that Mary has written.  There's lots of good stuff there with more to come.
Let's start today's show and tell with some of the fun canvases that were selected for next weekend's class that already have stitchguides.
Citizens of the Jungle by Zecca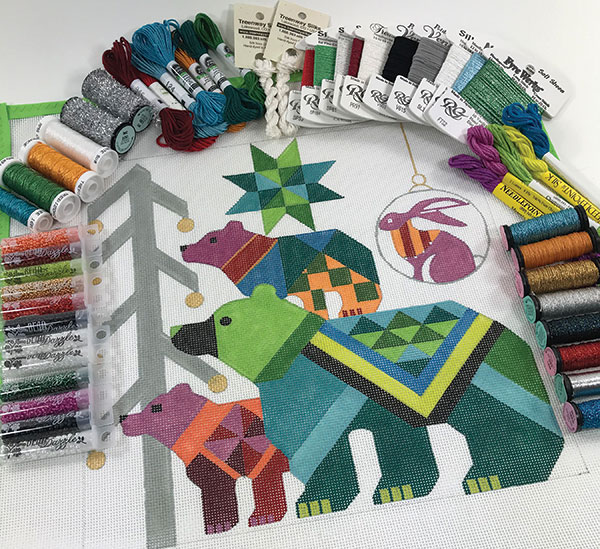 Abstract Bears by Melissa Prince
Hoppy Holidays by Strictly Christmas
Bouquet by the Bay from Love you More
Hide and Seek by Birds of a Feather
With all of these fun projects who needs new ones?  Just kidding.  New stuff is coming!  Lots of new stuff.  Stay tuned for those posts.  I'm excited to show you what's coming.  All of these goodies are available as kits, some are even in stock ready to ship to you asap.
xo
ruth
If you are reading this post on the blog great!  Make sure you are signed up for the mailing list so that you don't miss anything Bedecked and Beadazzled.  Did you know we are also on Instagram, Facebook, Pinterest and YouTube?  Even more places to follow the fun. xo again.