I have exciting news to share.  Marjorie Barnes and I have been cooking up classes!  Well, Marjorie has been doing all the work designing but I'm along for the ride which means you are too!
Marjorie will be teaching for us April 30th and May 1st on Zoom.  Yes, Zoom!  Zoom means geography doesn't matter.  How great is that?
April 30th, Marjorie will be teaching "I See You"  In her own words:  This necklace reflects the struggles that the pandemic has brought us.  Trust me, I am going through a difficult time myself. I want you to know that your hard work and dedication has not gone unnoticed.  I see you 
.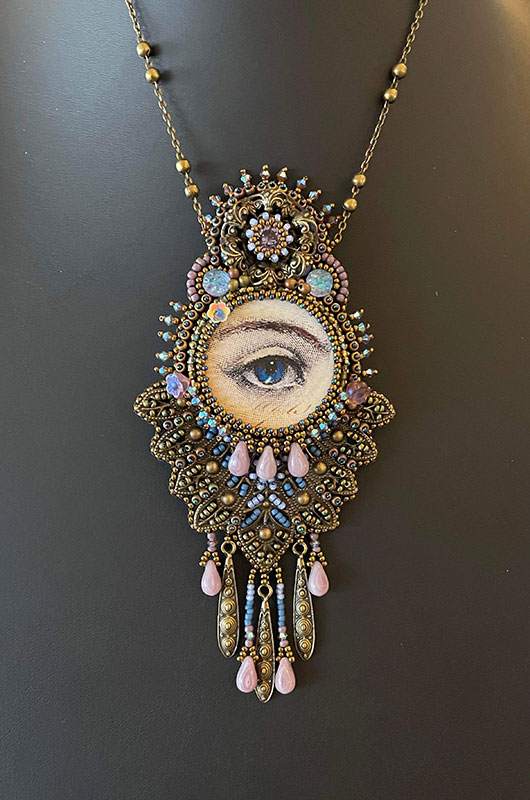 Click here for full details on "I See You."
May 1st, we will be offering Ice.  This necklace was inspired by the magnificent ice sculptures in the Harbin Providence located in the north of Beijing, China.  At night these sculptures are lit with a variety of colors.  Visiting this town took Marjorie's breath away.
Click here for full details on "Ice."
Both of these projects are attainable and wearable.  Marjorie is a fabulous teacher.  If you haven't taken a class with her yet, now is your chance.  I promise you will love her.
xo
ruth
If you are reading this post on the blog great!  Make sure you are signed up for the mailing list so that you don't miss anything Bedecked and Beadazzled.  Did you know we are also on Instagram, Facebook, Pinterest and YouTube?  Even more places to follow the fun. xo again.