If you are starting to think about the holidays, I have the perfect canvas for you.  This reindeer portrait is new-ish from Raymond Crawford.  Talk about classic elegance!  Finish as a pillow, a standup or frame it.  It would also make a fabulous Christmas tote.  Whichever you decide, it's certain to become an heirloom.  I wrote a stitch guide for it a few months ago.  It's filled with fun stitches to make this canvas sing and move along quickly.  The snowflakes are even custom pearls in settings!  Design size is 12 x 12 on 18ct.
If you would like to stitch the reindeer portrait,  here's the link to order.
It's been a busy week at the Beehive getting ready for Kelly Clark's mermaid class.  If you missed it, we are happy to send kits for either or both mermaids.  They are adorable and just packed with fun details.
Here's Dolphina the Gulf Coast Mermaid
Here's Marina the Deep Sea Mermaid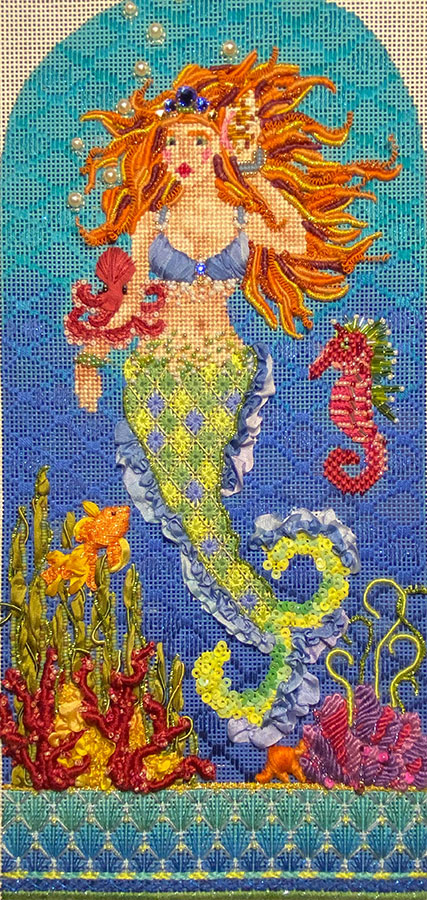 I'll post the final lesson of Fifi in her Garden shortly.  Let's Fall in Love is in progress, new refrigerator was installed two weeks ago and garbage disposal is coming this week.  Gotta love adult business responsibilities.  LOL.
xo
ruth
If you are reading this post on the blog great!  Make sure you are signed up for the mailing list so that you don't miss anything Bedecked and Beadazzled.  Did you know we are also on Instagram, Facebook, Pinterest and YouTube?  Even more places to follow the fun. xo again.