At the very beginning of the pandemic quarantine, Kimberly decided to design a canvas that could be a stitch-along.  She wanted to create a project that could be adapted to an online format, one with multiple little sections where she could talk to you about the thread she used, any special handling and then demonstrate one or two of  the stitches used. She went quickly to work and Menagerie was created.  It has twelve sections with an open background, a host of characters, cool borders and really cool techniques and threads!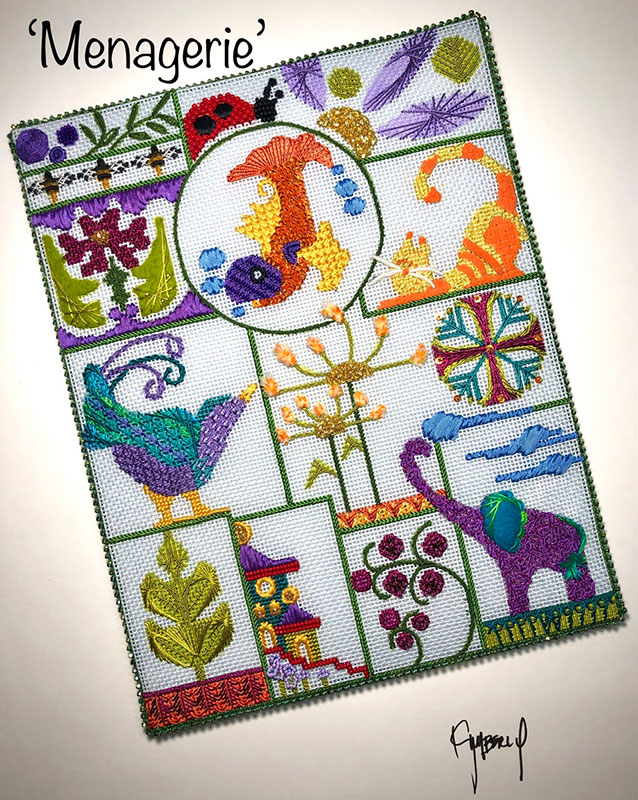 Menagerie is a bit of this and a bit of that.  It's not too big, measuring 7″ x 10″ on 18ct pewter canvas.  We are offering this as a complete kit – canvas, stitchguide and threads.  Starting in December, Kimberly will post her teaching tutorials, two per week, on-line so we can all stitch-along!
Canvases, threads and beads are all here, ready to ship in the next 2 weeks!
If you would like to join the fun, Here's the link to sign up for Menagerie!
xo
ruth
If you are reading this post on the blog great!  Make sure you are signed up for the mailing list so that you don't miss anything Bedecked and Beadazzled.  Did you know we are also on Instagram, Facebook, Pinterest and YouTube?  Even more places to follow the fun. xo again.