Oh what fun we had!  Three spectacular days of friends and stitching, that's what our holiday was about.
Each Thanksgiving we select a special piece to stitch.  I write the guide and we get together and stitch.  This year we selected this adorable canvas from Ewe & Eye, the red cardinals.
This is a small canvas packed full of fun techniques.
Baby birds have eyelet wings and Diamond Ray bodies.
The big bird has a gorgeous pattern that fits perfectly on his wing and is sprinkled with Swarovski crystals.  Another feathery stitch fills his body.
His tail feathers are needlewoven.  That was the first thing I thought of when I saw this canvas!  I did a video for you of how to create these.  Here's the link to the video.
Check out the garland on the trees.  We used two new trims from Access Commodities, Silk Facette and Silk Serpentine Gimp.  They are cute little bumpy trims that make perfect garland.
The sky is a super fun background that I believe was originally designed by Amy Bunger.  It uses Petite Silk Lamé Braid and a pretty blue from my line of Color Dreams Floche.
The snow is an interesting story for another day, stitched in Kreinik Very Fine (#4) Braid, Floche and embellished with beads.  You knew there would be beads somewhere.  (wink, wink)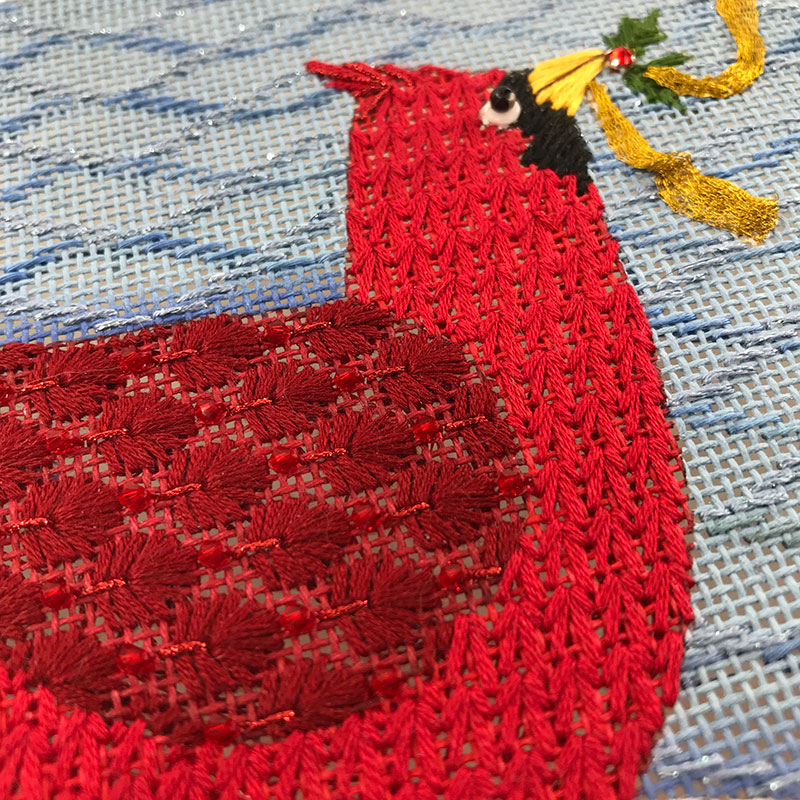 The final touch is a bit of WireLace for the ribbon and a rose montee berry.
Again, lots of fun stuff packed into a small canvas.  We have kits ready to send so if you are looking for the perfect winter stitch these little birdies would love to fly into your home.
I hope you are enjoying the 12 Days of Holiday Fun.  More fun stuff to come.
xo
ruth