Lesson Two of our current Mystery Class, Blissful Alignment by David Galchutt was this past Sunday via zoom.  We had a great group of ladies ready to embrace my vision.  Oh my!  I'm laying the groundwork for all the bling to come.  This is only the start of what's in my mind.  You know I love bling!  Never enough sparkle.
There's lots of gold borders on the sun.  Tent Stitched and Couched they set the stage for more sparkle to come.
I couldn't resist.  I made a limited edition Color Dreams Floche just for this project.  It's super subtle with hints of metallic gold.  It looks like grass cloth in the background of the design.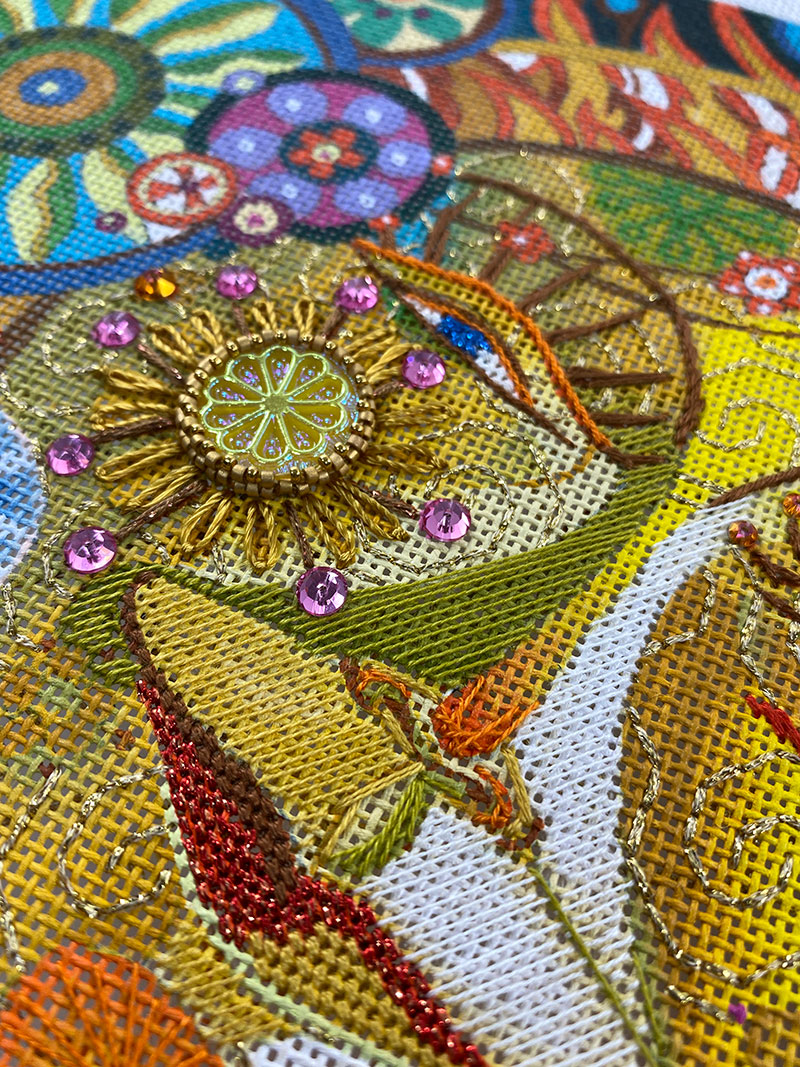 The real star of the show is this fabulous Czech cabochon with a custom finish on it.  Swoon.  It's super cool and the perfect focal on the face.
We're less than 2 weeks to lesson 3.  More canvases are on their way.  If you would like to join the fun, sign up and have us ship your canvas at the end of class.  Here's the magical link.
I'll be announcing the Halloween Mystery soon so stay tuned.  I want to make sure I really have canvases in hand before I make any promises.
xo
ruth
If you are reading this post on the blog great!  Make sure you are signed up for the mailing list so that you don't miss anything Bedecked and Beadazzled.  Did you know we are also on Instagram, Facebook, Pinterest and YouTube?  Even more places to follow the fun. xo again.