OOOH!  This is something I have wanted to do for a long long time, but until Zoom became a normal part of our lives I couldn't.  Now I am doubly excited to bring this event to you.
Cynthia Rutledge is one of the top beading teachers in the industry and she will be offering her Meet In The Middle Master Class for us on ZOOM!  If you enjoy beading, I hope you will join us for this fabulous class.
The dates are February 18-20th from 11-5 EST 
The best of both worlds come together in this workshop to explore the process of creating miniature boxes. In the 18th century, Grand Tours were de rigueur for the royal families of Europe, as well as, wealthy young men experiencing life before settling into the demands of having a family, along with couples on their honeymoon. Many travelers commissioned miniature boxes, called souvenir boxes, to remind them of cities that they had visited or a spectacular event that they witnessed, like a circus act; or to document the excitement of a fox hunt. Some boxes were commissioned to show off an ancestral home, castle or palace. A lymnerist (miniature portrait painter) could be commissioned to paint miniature portraits of children, family and friends, making these little boxes keepsakes, as in the collection of Easter eggs created by Fabergé for Tsars Alexander III and Nicolas II of Russia. These miniature works of art were the aristocracies' form of souvenir collecting.
Kings and Queens commissioned souvenir boxes, presentation boxes and snuffboxes to give as gifts to loyal subjects. Nothing but the best materials was used for these little masterful gems. The boxes were made of gold, enamel, precious gems and pearls, cameos and intaglios along with miniature paintings. The craftsmanship is truly spectacular!
In this workshop we will explore techniques that lend themselves to a variety of box shapes. Using seed beads and Delica beads, fine patina copper sheet, CZ's and pearls, tiny cup-chain, specialty findings along with embellishing and finishing materials, students will create their own souvenir box. Once the box body is underway, we will work on options for embellishing. This portion of the workshop will be really exciting, as there will be lots of samples to look at and plenty of materials to work with to create a one-of-a-kind souvenir box.
Cynthia will instruct students on how to measure and cut the metal, punch holes for adding feet and embellishments, setting small CZ's successfully, and then walk the students through the process of gathering supplies for embellishing. As we move into the embellishing stage of the project, I will be on board to assist with decision-making and how to best approach the process of embellishing, along with color theory and moral support!
Display it or use it, either way these designs will stand the test of time as an inspiration for creating beautiful works of art!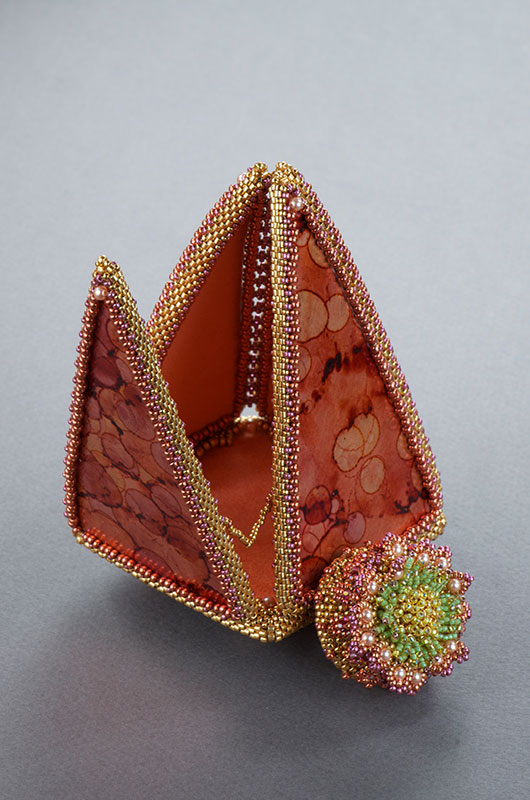 Skill level: This workshop is advanced. The student must having beading skills but does not need any skills with using metal. Dimensions: Oval box: 2.5 inches deep x 3.25 inches wide x 1.5 inches tall. Round box: 3 inches wide x 1.5 inches tall. Triangular box: 3 inches deep x 3 inches wide x 4 inches tall.
There will be a materials fee payable directly to Cynthia of $140.00 which includes the following materials to make 3 boxes:
• 36 gauge patina copper, color of choice for one oval box
• 36 gauge patina copper, color of choice for a round box
• 36 gauge patina copper, color of choice for a triangular box
• Template plastic for support material for three boxes
• Templates for three boxes
• Ultrasuede for three boxes
• 1 roll each of 1/8", 1/4" and 1" wide Red Tacky Tape
• 1 full color Beadwork & Metal: Meet in the Middle Book
Techniques:
• Bezel work • Netting • Peyote stitch, even count and with increasing • Odd count flat peyote stitch • Right-angle weave • Stitch-in-the-ditch shaping techniques • Optional stitches for embellishment will depend on each student's design, to possibly include brick stitch, herringbone, netting, RAW, CRAW etc. • Exploring the design process for embellishment and construction • Learn about using CZ's, cup-chain, small pearls to add interest to the box • Cutting thin patina metal and creating support materials to create structure for the box • Learn how to use hole punches in order to attach feet and embellishments • Embellishing techniques
We will have an additional 1 hr Zoom meeting January 20th at 7PM EST to discuss materials to have on hand for class. 
I hope you will join us.  Here's the signup link.
Stay tuned for a flurry of emails from me as we get ready for our first needlepoint embellishment class of 2022.  We're almost there!
xo
ruth
If you are reading this post on the blog great!  Make sure you are signed up for the mailing list so that you don't miss anything Bedecked and Beadazzled.  Did you know we are also on Instagram, Facebook, Pinterest and YouTube?  Even more places to follow the fun. xo again.