Three Birds is now complete!  We had our final lesson via zoom Sunday and had a great time.  There are so many little areas on this canvas begging to be filled with texture. That's exactly what we did.  We added French Knots, Bullion Stitches, Ruched Neon Rays+ and even chipped Check Purl to round out the basic tour of goldwork techniques.  So much texture.
All of this means I made new videos!  Lot's of new videos.  You can see all of our Tips and Techniques by clicking here.  Or simply follow our YouTube channel and be notified of all new videos.  Here's that link.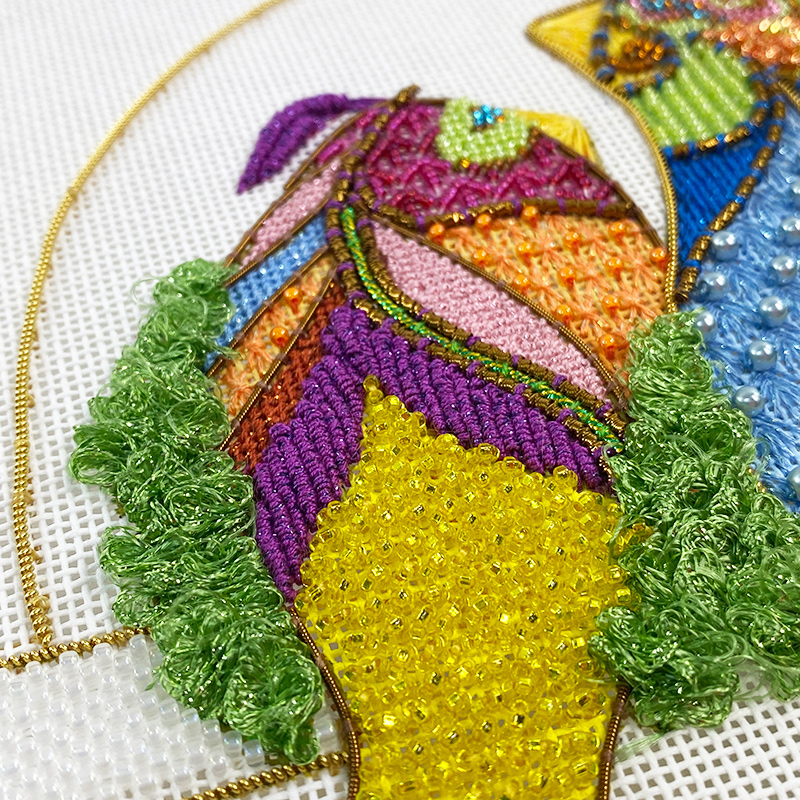 I decided the birds needed a little something in the background, just a little something.  So I added a beautiful arch of gold purl above their heads.
If you are stitching this and all of that exposed canvas causes you stress you can certainly fill in the background or just the area under the arch with a stitch or two of your choosing.  I would still keep it white.
We have more canvases arriving over the next few months.  Anyone who signed up early will see theirs shipped very soon!  So, get your needles ready.
If you're ready to join the fun and have your own birdies, here's the link.
Just as a little PSA, Blissful Alignment our next mystery class has been moved to July 12.  Stay tuned.
xo
ruth
If you are reading this post on the blog great!  Make sure you are signed up for the mailing list so that you don't miss anything Bedecked and Beadazzled.  Did you know we are also on Instagram, Facebook, Pinterest and YouTube?  Even more places to follow the fun. xo again.