Day One of Zoom-bellishment is today and we have reached the last of the featured canvases!  This is Melissa Shirley's Christmas Tree Lady.  This is truly a fan favorite.  She will be a delight to stitch with her big ruffly tree skirt.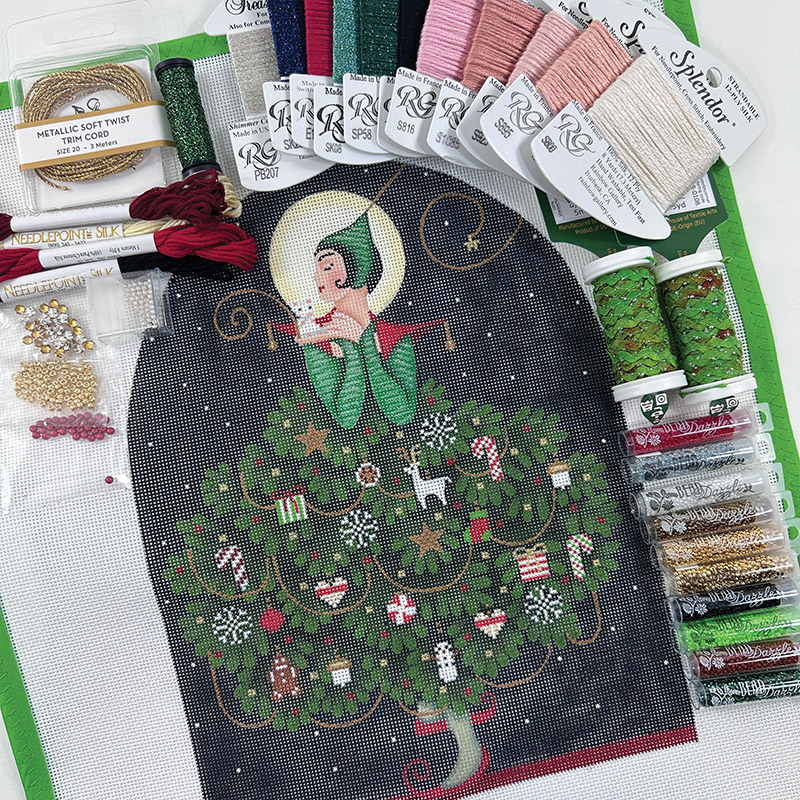 If you would like to add her to your holiday decor, click above where it says Christmas Tree Lady and order yours now.
Now, back to our regularly scheduled programming.
xo
Mystery Class News
My Neighbor's Garden by Brooke Connor is our current mystery class, and it is jam packed with color!  Lesson two is coming soon!  I'll get photos from lesson one on-line soon.
Let's Fall in Love is on track.  Threads are arriving.  It will still be awhile but we're getting there.  There's lots of threads and ribbons being dyed.  We will ship as soon as possible in the order you signed up.  It may be time to update your charge card.  If you have moved on from this project because it got old and dusty, I understand.  Please feel free to drop us an email and let us know so that we can release your kit to someone else.
The newest of the new is in the What's New section of the website.  Stay up to date on new canvases by visiting that link often 🙂  You never know what might just have been released.
xo
ruth
If you are reading this post on the blog great!  Make sure you are signed up for the mailing list so that you don't miss anything Bedecked and Beadazzled.  Did you know we are also on Instagram, Facebook, Pinterest and YouTube?  Even more places to follow the fun. xo again