We love inviting teachers to our studio to spend the day or spend the weekend. There is always something new to learn and a good time is had by all. The studio is open for classes only and is located in Lutherville, MD.  If you need more information on any of the classes listed or would like to sign up, give us a call 410.296.0405 and we'll do the rest! See you soon.
---
Kinga Nichols
Kinga is a dear friend and one of our favorite teachers.  We love when she visits and brings us her unique style of bead embroidery. A fun time is had by all and we get gorgeous new jewelry to wear.  These are all totally doable pieces.
Opals! – March 1, 11-5 pm
When Kinga was here the last time she had so many gorgeous models with opals in them.  Swoon!  We asked her to develop a class just for us so we could play with opals.  This is it.  Class will begin with a basic supply kit*.  From there we will select Opals from her trunkshow (at an additional cost) and build our own necklace, bracelet, earrings whatever we want.  These are just a few of the gorgeous pieces Kinga has made with opals and labradorites.
Class fee is $225.00*  and includes basic kit, teacher's fee, lunch and dessert.  The opals for your project will be additional.
*Deposits are required at signup.
Relic Earrings, March 1, 6-9 pm
You know I love these earrings.  I will so be wearing these all the time.  A little bead embroidery.  A little bead weaving and voila!  Earrings are done.
P.S.  In case you are wondering, I also see these as flower centers on a needlepoint canvas.  Just sayin….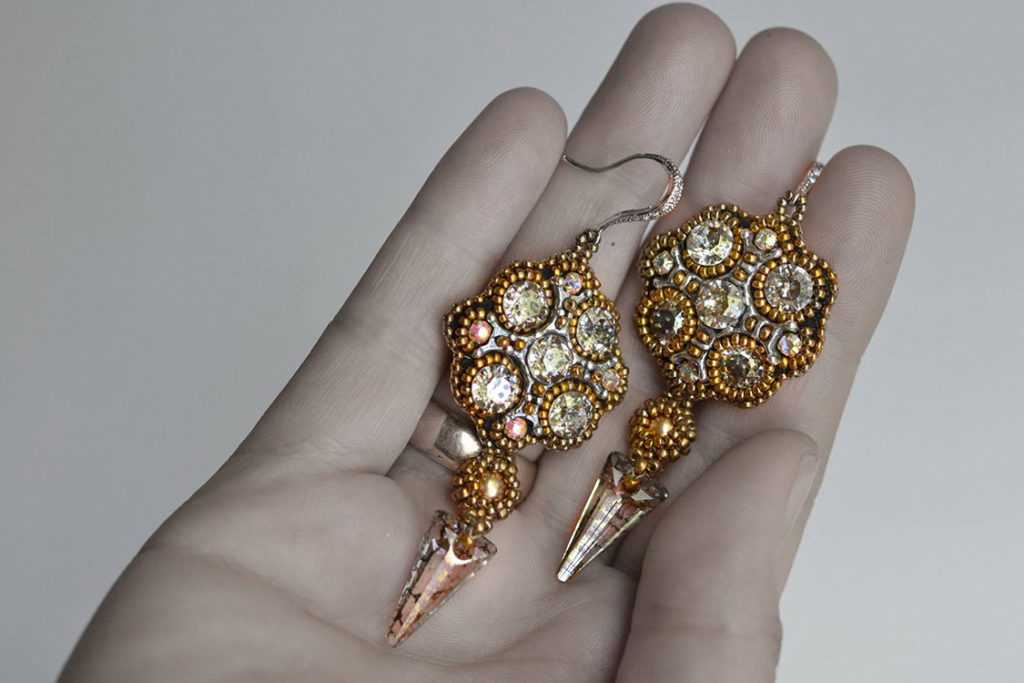 Class fee is $185.00*  and includes everything!  Teacher's fee, complete kit.
*Deposits are required at signup.
Zhuangzi's Butterfly, March 2, 11-5 pm
By popular request, Kinga will be teaching this amazing bracelet for us.  While there are plenty of bead embroidery elements here, a lot of this project is good old fashioned stitching, sewing. The bracelet comes together from ten components, she will make the process easy peasy for you. The name of the project has to do with Master Zhuang's dream:
Once upon a time, I, Chuang Chou, dreamt I was a butterfly, fluttering hither and thither, to all intents and purposes a butterfly.
I was conscious only of my happiness as a butterfly, unaware that I was Chou. Soon I awaked, and there I was, veritably myself again. Now I do not know whether I was then a man dreaming I was a butterfly, or whether I am now a butterfly, dreaming I am a man. B
etween a man and a butterfly there is necessarily a distinction.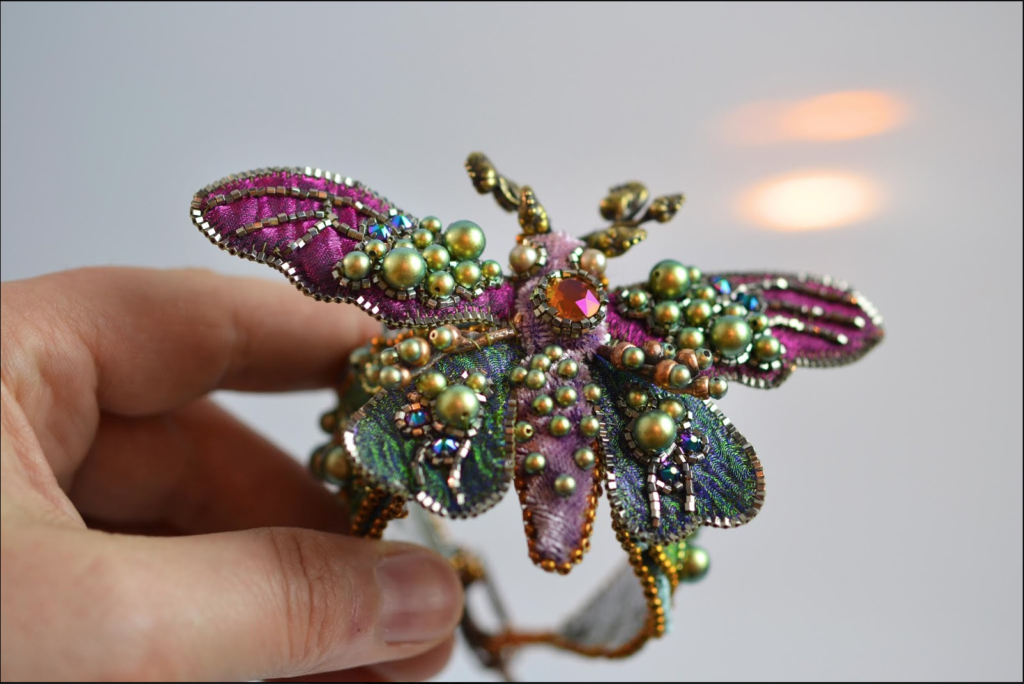 Class fee is $250.00*  and includes everything!  Teacher's fee, complete kit.
*Deposits are required at signup.
Monastery Windows at Dusk Bracelet or On the Nature of Daylight Pendant, March 3, 11-5 pm
Choices! Choices! Choices!  Take your pick of this beautiful set – Bracelet, Pendant or both.  You know how I roll.  🙂
This beautiful component based bracelet features gorgeous silk and bead embroidery embellished elements, The outcome is a wonderfully luxurious bracelet that has the look and feel of fine jewelry, trapped in time.The design is built around the repetition of window like components, playing with light and dark, textures and negative space. The finished bracelet seems to glow from within.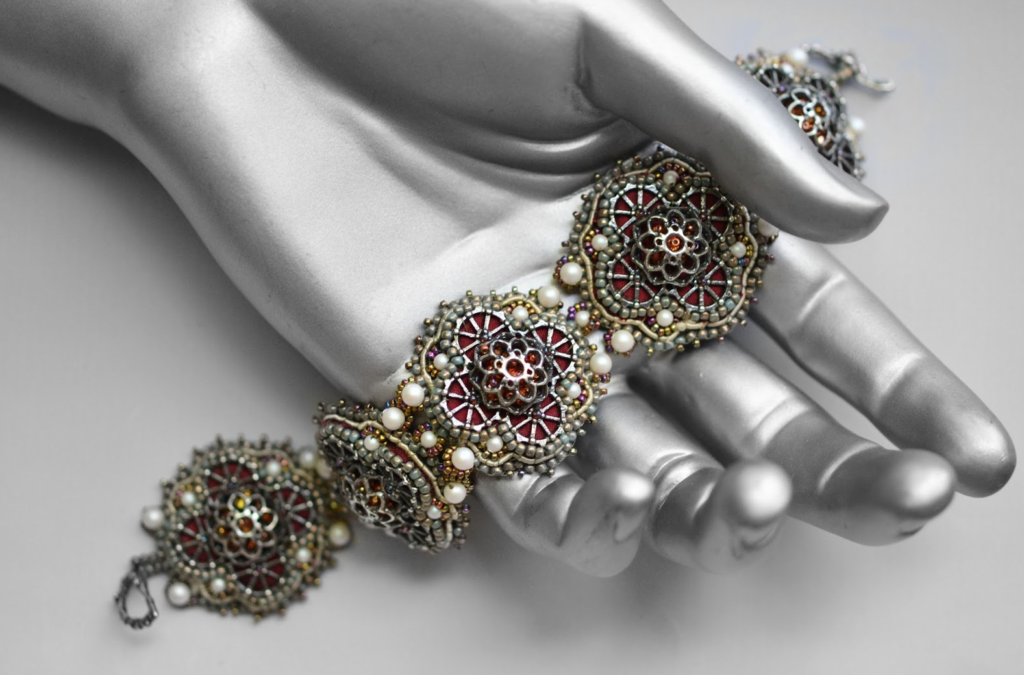 The piece consists of a pendant in the shape of a church window complete with stained glass and the light that shines through; and  double CRAW ropes made with 15s. (The ropes could also be made with three sided PRAW.) The finished piece is beautifully architectural, serene, highly wearable and delicate.
Class fee is $250.00*  and includes everything!  Teacher's fee, one complete kit.
*Deposits are required at signup.
---
CANCELLATION POLICY ETC:
Bedecked and Beadazzled reserves the right to cancel if the minimum number of students is not reached 30 days prior to the event.  All fees will be refunded in this case.
If you need to cancel, please be aware: deposits are non refundable.  Balance of class is due one month prior to class date.  After this date, no refunds are possible.