We love inviting teachers to our studio to spend the day or spend the weekend. There is always something new to learn and a good time is had by all. The studio is open for classes only and is located in Lutherville, MD.  If you need more information on any of the classes listed or would like to sign up, give us a call 410.296.0405 and we'll do the rest! See you soon.
---
Sherry Serafini!  September 21-23, 2018
Sherry will be here in September teaching glorious bead embroidery jewelry that is totally doable. I promise.  You can do this.  Sherry is not only an amazing artist and one of the the icons of the bead world but she is just the nicest person.  We can't wait to introduce you to her.
Friday September 21, 11-5 pm  Celebration Necklace
Join us and make a beautiful bead embroidered pendant utilizing a wooden ring armature, Czech button, Tierracast drops, cup chain, cabochons and seed beads. Neckpiece hangs from chain and closes with a lobster claw clasp.
Class fee including complete kit and lunch and is $235.00*
Saturday September 22, 11-5 pm  Crazy Quilt Cuff
Bead embroider a fabulous, funky and fun cuff using buttons, leather, cup chain and various embellishments. This class is a design oriented class while exploring mixed media.  My favorite thing about this cuff is that you can size it to fit, narrow or wide this is your creation.
Class fee including complete kit and lunch and is $270.00*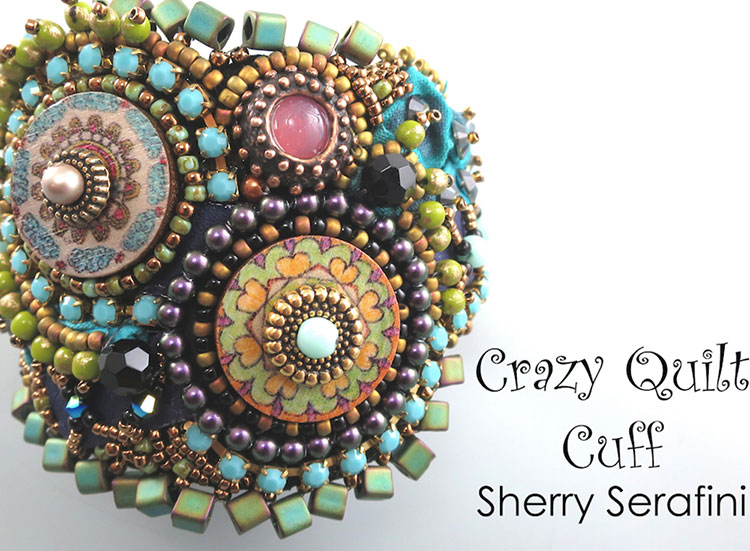 Sunday September 23, 11-5 pm  Bella Necklace
Bead embroider an elegant necklace that utilizes Annabronze© bead caps, Swarovski elements, wooden ring and more. Embroidery, peyote stitch and edging are the stitches explored.
Class fee including complete kit and lunch and is $235.00*
*Deposits are required at signup with balance due one month before class.
10% OFF if you join us for all 3 days!  It's going to be a super fun adventure.  We will also have a trunkshow.  I'll be sure to post that on facebook so even if you can't come you can still join the fun.
---
Who's coming next? – Apollinariya Koprovnik! Pika Polina
October 25-28, 2018
Here is a list of some of the wonderful, world-class instructors we have had the privilege of hosting since we opened in 2007:
Marjorie Garcia Barnes
Julie Haymaker
Amy Katz
Sylvie Lansdowne
Kinga Nichols
Teresa Sullivan
Liisa Turunen
---
CANCELLATION POLICY ETC:
Bedecked and Beadazzled reserves the right to cancel if the minimum number of students is not reached 30 days prior to the event.  All fees will be refunded in this case.
If you need to cancel, please be aware: deposits are non refundable.  Balance of class is due one month prior to class date.  After this date, no refunds are possible.