We love inviting teachers to our studio to spend the day or spend the weekend.  Sometimes we even invite them to hang with us virtually. There is always something new to learn and a good time is had by all. The studio is open for classes only and is located in Lutherville, MD.  If you need more information on any of the classes listed or would like to sign up, give us a call 410.296.0405 and we'll do the rest! See you soon.
---
Teresa Gorecki
It's time for a surprise!  Let's ZOOM with Teresa Gorecki of Bespoke by Teresa! Who doesn't need some color in their life?
Northern Lights, August 15 & 16, 11-4 pm
Inspired by the Northern Lights, we see the  brilliant greens, blues, purples and pink/reds of the Aurora Borealis at certain times under specific conditions in both the Northern and Southern Hemispheres.  These glorious colors on a backdrop of the black night sky come to life in this custom design; each crystal, pearl and bead was carefully selected to to tell the story of one of the Northern Lights.
Rarely do we see a beaded piece with a Jet focal.  The Jet focal showcases many precious Swarovski Custom Coated Colors; the Shimmers and the complex AB 2X coating.  These rare and unique brilliant colors make this design even more magical.
The beads are the highest quality seed beads available including precious metal seed beads.
The components were created individually with the intent of connecting them into a cohesive design.
These kits were not and will not be mass produced; we respect your investment in taking class; you will not only receive the instructions and a kit, numerous demonstrations will be conducted throughout the class via ZOOM.  There will also be extensive tips and guidance on design and how these components can be used to create earrings, a bracelet or collar style necklace…  even on how they can be used in bead embroidery.
There are four color choices.  Each is prettier than the next.  Trust me, these are very wearable.  The pendant measures 4.5″ in length.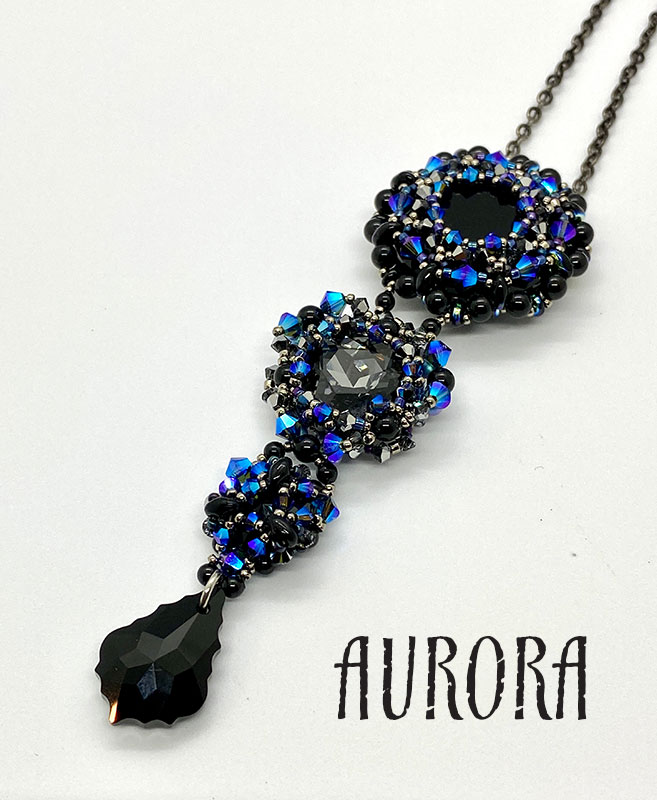 Class is limited to 15 participants.
The primary bead weaving technique used for this piece is an advanced, innovative form of netting.
This class is for intermediate to advanced beaders.
Class fee is $355.00*  and includes the complete kit, instructions and teacher's fee for both days. 
*Deposits are required at signup.  Unfortunately, we can not accept ghost students for this class.
---
CANCELLATION POLICY ETC:
Bedecked and Beadazzled reserves the right to cancel if the minimum number of students is not reached 30 days prior to the event.  All fees will be refunded in this case.
If you need to cancel, please be aware: deposits are non refundable.  Balance of class is due one month prior to class date.  After this date, no refunds are possible.